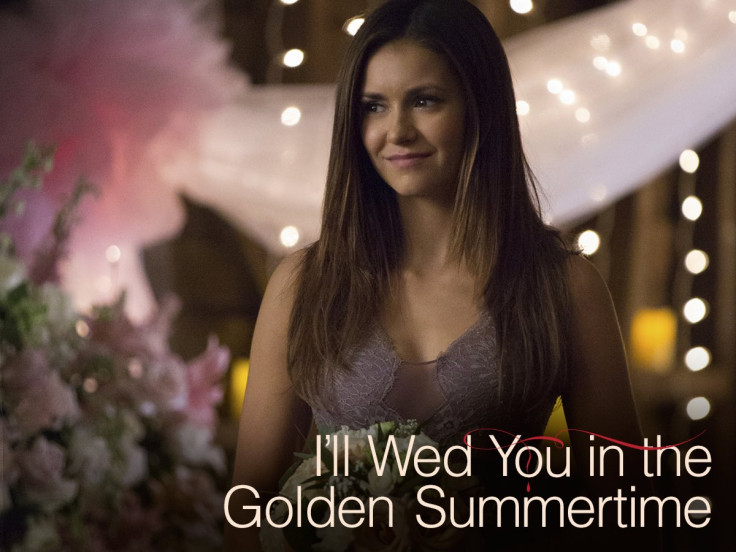 Vampire Diaries fans are bracing themselves for the most tragic twist of the series until now, the exit of Nina Dobrev's character Elena Gilbert.
The promo of the TVD season 6 finale has already teased Elena's death as she is seen lying unconscious on a hospital bed in the clip.
In the previous episode titled I'll Wed You in the Golden Summertime, fans saw that Damon finally decides to take the cure for vampirism and turn human to live normally with the love of his life.
But before they could plan their future, the evil Kai crashes Alaric and Jo's wedding, after escaping from the prison world and stabs a pregnant Jo. He then uses psychic powers to ruin the wedding and fatally injures Elena in the process.
Watch the emotional scene below.
TVD fans were hoping for a gentle exit for their favourite character, but it now appears like show runner Julie Plec may have decided to do something different.
Dobrev, meanwhile, teased about her character's future in an interview with the Hollywood Reporter. The actress said that she was lying down on the sets while filming the season 6 finale episode.
"I'm in the hospital. That's in the promo, I can tell you that. I spent a lot of time, horizontal, lying down. I fell asleep a couple of times during takes because I had to pretend to be unconscious. So I can tell you that. Basically, I can tell you nothing," the 26-year-old joked.
Replying to a query about her plans after her exit from The Vampire Diaries, she said that she would consider completing her graduation. "I started college in real life, but I never finished," the Bulgarian actress told the website.
"I need to graduate! I'm ready now. I'm ready to go into the real world. I've literally grown up on this show. I was a baby when I started, and now I'm a woman," she added.
The Vampire Diaries season 6 finale will air on 14 May on The CW. The finale has been written by show producers Julie Plec and Caroline Dries.