The Vampire Diaries and its spinoff series The Originals have not made much use of their collective crossover potential, but that doesn't mean there aren't more plans to merge these two stories in interesting ways.
The last time we saw Klaus and Salvatore brothers was in Season 5 of The Vampire Diaries episode titled 500 Years of Solitude.
Executive producer Julie Plec told HitFix that they were "talking about [crossover] stories right now even as we speak."
She added, "Currently a crossover idea on the table but it'll only come to fruition if scheduling works and the story is necessary. Creatively, it's just got to feel like it exists only and solely in the universe of 'The Originals' [and] the story could not be told without that element."
Here are three possibilities for a cross-over episode:
The Other Side

Both Esther and Mikael are back in The Originals, thanks to the Other Side falling on The Vampire Diaries. Creator Julie Plec said, "When we decided to get rid of the other side on The Vampire Diaries we knew this was our only shot.
"Both the shows can slowly build towards an epic, two-hour season finale event that has both casts fighting the same evil, disaster, whatever that has been growing throughout their respective seasons, which is the "other side falling apart.""
Since the other side is haunting both Klaus and Elena and co there is a crossover possibility. The fans will be delighted to see the Original Mikaelson brothers and Salvatore brothers fighting together side by side!
Klaus can help get Damon and Bonnie back
The Vampire Diaries characters Bonnie Bennett (Kat Graham) and Damon Salvatore (Ian Somerhalder) are hanging in some other plane of existence after vanishing from existence in the Season 5 finale. But we know they will be back in Season 6 and are trying to find their way back to their loved ones.
All of New Orleans might come in handy to get Bamon back. The answer to crossing back over from whatever existential plane Bamon ended up being in are powerful witches. Super old vampires. Ancestral grounds of extreme power to help then get back to Mystic Falls. Extra points if Caroline goes to Klaus asking for help to get her friends back. A little Klaus-Caroline romance will spice up the show, especially after the way they left things the last time. Steamy!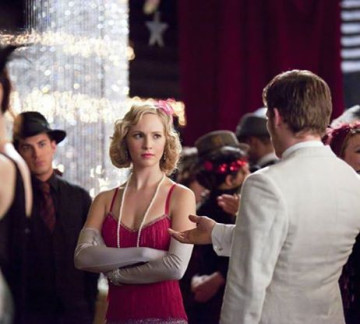 Baby drama
Klaus' desire to protect his baby will be his top priority and there will be a million obstacles in his path.
Also, all of New Orleans thinks that Baby Hope is dead, but how long will that really last? How long until Mikael and Esther use their grandchild against their son?
And how long until Klaus realises he needs to ask for help from some old friends. The residents of Mystic Falls aren't exactly Klaus' friends, but being the Original vampire has its perks. If he dies, almost half of Mystic Falls' vampires die too. Elena and co should definitely visit New Orleans to help Klaus.
The Vampire Diaries Season 6 premieres on October 2 and The Originals Season 2 premieres on October 6 on the CW Network.