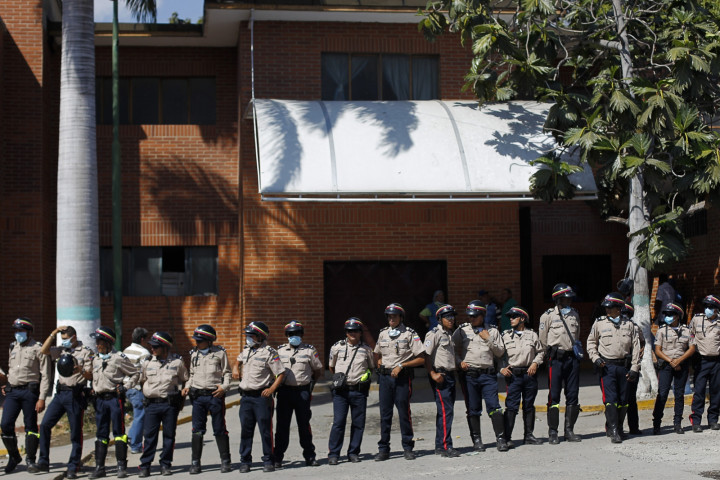 A group of inmates raided the prison infirmary and drank a lethal cocktail of pure alcohol mixed with drugs.
Twenty of the 100 prisoners taken ill are in comas, said officials, with the death toll tally currently at 35.
The Venezuelan government said the troubles started on Monday with a hunger strike at David Viloria prison, seeking better conditions, according to a PA report.
"Around 8:30 am [Monday] they became violent and started to break the walls and the doors of the confined areas, so the National Guard was called in for support," the Ministry for Public Power of Penitentiary Services said.
William Ojeda of the socialist party said that after visiting the jail, he found out that many of the intoxicated inmates were drug addicts, suffering from withdrawal symptoms due to the prison's strict rule of abstinence.
Human rights activist Ligia Bolivar at Andres Bello Catholic University in Caracas said: "Counting the deaths now requires going to the morgue," as government information is scant.
Police arrested the jail's warden Julio Cesar Perez, who is expected to be charged in connection with the deaths.
After the revolt, shackled inmates were taken to the local morgue to help identify the corpses.
The government released a statement saying the situation at the prison was under control after calling in the National Guard and 720 prisoners have been moved to other prisons, but as yet, families members have not been told where, Globovision reported.
Prisoner rights activists were sceptical of the government's version of events, saying no inmates would voluntarily end their lives or lethally poison themselves as a form of protest.
"I doubt the official version," said Marianela Sanchez, legal coordinator with the non-governmental organisation Prison Observatory.
"I don't think an inmate grabbed a flask and drank it, that's stupid," she said, calling for an investigation. "Something happened and the results are catastrophic."
Venezuela's prison system has been plagued by violence and is notorious for its poor conditions.
According to the ministry, the David Viloria is one of more than 70 new prison centres in the country. They were intended to phase out the old jails, which were condemned for lack of control and alleged violation of human rights.