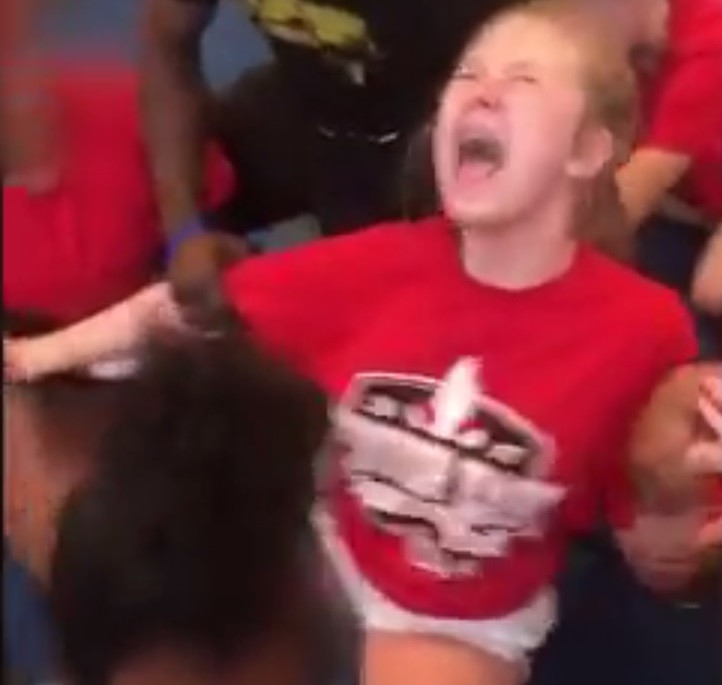 Police are investigating a school in Denver after shocking video emerged of a cheerleader screaming in agony after being forced in doing the splits by her coach.
Five staff members at East High School, including the principle and cheerleading coach, have been placed on leave while the school investigates video of the incident filmed in June.
During the footage, obtained by 9News, the teenage girl identified as Ally Wakefield can he heard crying out in pain and begging "please stop" as several others pin her legs down in the splits position.
Coach Ozell Williams, who is well known in the area for his acrobatic displays during US football games and has appeared on America's Got Talent, can also be seen pushing down on the girl's shoulder as she continues to cry out in pain.
The school was sent the distressing footage back in June, but did not begin to investigate until 9News broadcast the footage, the news station reports. More videos showing other girls in similar pain and distress while trying out for cheerleading at the school are also said to exist.
Responding to the footage, Cameron MacDonald, associate professor of physical therapy at Regis University, said: "If I was to be personally present and witness to an approach to get a young girl to do the splits in that fashion, I would have stopped it.
"I know from myself as a physical therapist that is not the approach I would take."
As well as Williams, the assistant cheer coach, high school principal, assistant principal and Denver Public Schools deputy general counsel have all been placed on leave
Denver Public Schools Superintendent Tom Boasberg said the footage is "extremely distressing and absolutely contrary to our core values as a public school community".
He added: "I became aware of an exercise used at cheer practices this summer at East High School. We immediately began taking steps to investigate this issue, and our Department of Safety is supporting Denver Police in this effort.
"In order to conduct a fair and thorough investigation, we have placed East Principal Andy Mendelsberg, East Assistant Principal Lisa Porter, East Cheer Coach Ozell Williams, East Assistant Cheer Coach Mariah Cladis and DPS Deputy General Counsel Michael Hickman on leave.
"This is standard practice in an investigation of this type. It does not imply or prejudge in any way the actions of the individuals or what the investigation might determine. Please know that we will share the results of the investigation as soon as possible.
"I want to reiterate in no uncertain terms our commitment to the safety of our students. We absolutely prohibit any practices that place our students' physical and mental health in jeopardy.
"We do not and will not allow any situation in which a student is forced to perform an activity or exercise beyond the point at which they express their desire to stop. While this investigation is ongoing, we are entirely focused on ensuring our students and staff at East are receiving the supports they need."