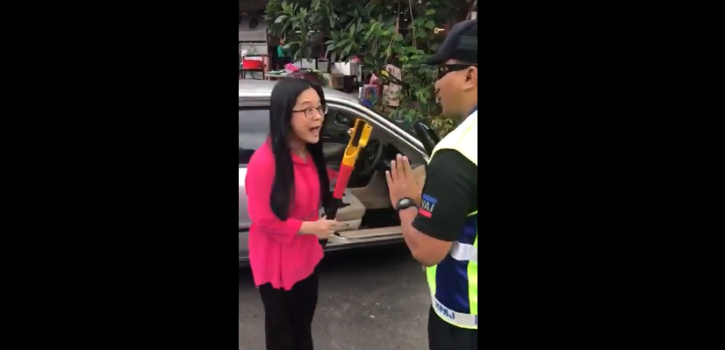 A video, which shows a woman threatening an officer with a steering lock and shouting at him after her car was clamped at a car park in Puchong city in Malaysia, has gone viral.
The clip has garnered more than 5900 views and has been shared by 10,724 users on Facebook, with several commentators praising the officer for his calm demeanour.
The incident took place on 6 September and in the video, the Subang Jaya Municipal Council (MPSJ) officer is seen explaining calmly to the woman that she has parked her vehicle in a wrong place. Despite the explanation, the woman continues to threaten the officer.
According to the woman, she was buying food for her disabled husband and had no other place to park the vehicle. When the officer asked for an OKU card (a card to identify people with disabilities), the woman could not produce one.
The car was towed to the MPSJ towing depot and the woman's husband came and paid the RM190 fine (£34.34). He also apologised for his wife's behaviour.
The officer later lodged a police report about the incident and the police recorded a statement from the woman.
The Serdang district police chief Assistant Commissioner Megat Mohamad said that the woman's husband's statement was also recorded and he produced a valid OKU card, on Saturday night (9 September).
"No arrest has been made and the investigation paper will be completed and referred to the deputy public prosecutor's office on Monday," The Star quoted Mohamad as saying.
"But the police are still investigating if the man was in the car at the time of the incident.
"Investigation papers are still being completed and we ask all parties to allow us to fully investigate this case thoroughly," he was quoted as saying by Malaysia Kini news website.