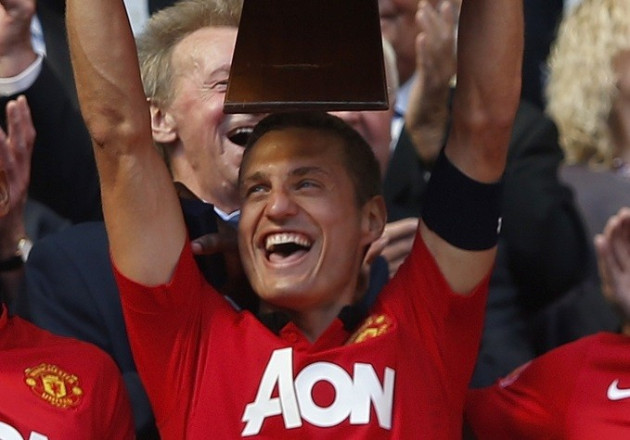 Manchester United captain Nemanja Vidic admits he is playing for a new contract at Old Trafford following a succession of injuries.
The Serbian international has made just 18 Premier League starts in the last two seasons after suffering a series of knee problems.
Vidic has entered the final year of his contract with the Premier League champions and is yet to begin negotiations regarding an extension.
"I'm not expecting anything, I'm just trying to perform as best I can and along the way we will see where I am and what the plans are," Vidic said. "I am not worried."
Veteran pair Rio Ferdinand and Ryan Giggs have both signed one-year deals this summer and Vidic himself would be expected to be offered a 12-month extension in the next year should he prove his fitness.
The 31 year old missed United's pre-season tour to the Far East with a back injury but featured in the Community Shield victory over Wigan Athletic last weekend and is fit for the start of the club's Premier League title defence against Swansea City on the opening weekend.
"The sciatica (back injury) was not a big problem but it was better for me to stay and train with the reserves," he added. "I've not had a pre-season for a couple of years and I was training really well with the reserves. I had two 90-minute games and I think I'm ready.
"I never like to make big promises but I believe I am fit. I am sure of how fit I am. I feel really good. Now it's all behind me, one and a-half years after my [first and more serious] operation and I'm ready to go."
Despite being defending champions United don't start the season as favourites to retain the title in David Moyes' first season as manager.
Both Manchester City and Chelsea, with new managers in toe also, have made a raft of impressive additions this summer and are expected to set the pace this season ahead of a United side without Sir Alex Ferguson at the helm for the first time for over a quarter of a century.
But Vidic has assured United's rivals the squad are paying no attention to pre-season predictions.
"The question has been can we win the title again and I've always said after last season we have to work hard and show we are capable of winning again, he said.
"We will show we can compete for the big trophies, Champions League and Premier League. We don't have a problem with that. We never fight for our place in the media, we like to fight on the pitch and we'll do that again.
"We respect everyone's opinion but we know the players we have here. We know what the expectations are. Like I said, we are just focused on winning the title and we are not very bothered about what else people say."