Vikings season 4 delivered its major twist by killing its central character Ragnar Lothbrok. In episode 15, titled All His Angels, King Aelle inflicts unspeakable torture on the former King of Kattegat before dropping him into a pit filled with venomous snakes whose deadly bite killed Ragnar.
Ragnar's shocking death has left fans disappointed even though they knew that the disgraced king would have eventually died. Show creator Michael Hirst, meanwhile, teased that the major leap in the series will help set the path for a greater plot. But he also said Ragnar being the most important historical figure cannot just vanish and therefore will keep appearing in "dreams and "visions" of the other characters.
Click here to watch episode 16 via live stream online.
"He's such a powerful presence in people's lives he could reappear in dreams, in visions ... I don't think that any of my major characters ... I started with — Floki (Gustaf Skarsgard), Ragnar and Lagertha (Katheryn Winnick) and Rollo (Clive Standen) ... none of them will ever actually go away or disappear from the saga," he told Hollywood Reporter.
"He [Ragnar] will live on because he was the most famous Viking of the time. But he also, of course, will live on through his sons. I never wanted this story to end when Ragnar dies physically. We've shot roughly 25 more hours of TV now after Ragnar's death, and we are a long way down the line. We are really embracing the sons, but Ragnar hasn't gone away because Ragnar is still the inspiration," Hirst added.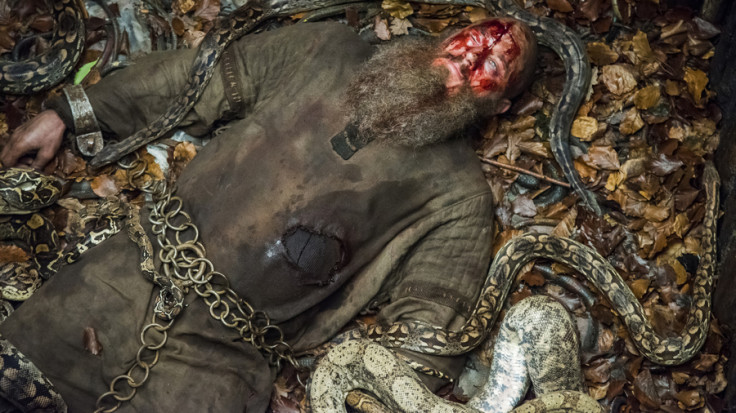 In the previous episode, King Ecbert secretly travels to Northumbria to watch the entire heart-rending ordeal of Ragnar's execution. Ivar, meanwhile, arrives home only to be informed by his siblings Ubbe and Sigurd that his mother Aslaug was killed by Lagertha. The sudden equation change in the popular show by History Channel has prompted fans to speculate about the future of Bjorn and Ivar who are touted as the next big Vikings leaders in the periodical saga.
The official synopsis of episode 16 titled Crossings reads: Bjorn's fleet sails onward and launches a surprise attack; back in Kattegat, Lagertha continues in her quest for power.
The upcoming episode will focus on the frictions between Ivar and Lagertha as Aslaug's death may strain their relationship further. Vikings season 4 airs every Wednesday night at 9pm CT on History Channel.