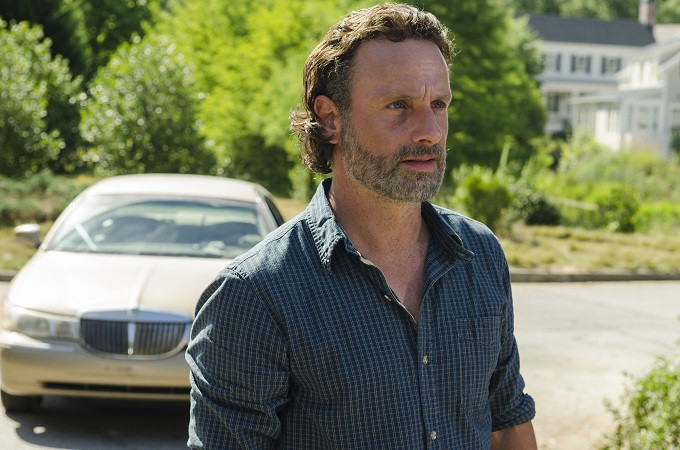 The Walking Dead season 7 started with a bang as two of its most important characters were killed off, which got fans excited. However, the following storyline failed to meet the hype and viewers were left disappointed, which led to a dip in the ratings of the show. Now, Andre Lincoln, who plays Rick grimes in the AMC zombie series, has teased that the last seven episodes will be "magnificent".
In an interview with Entertainment Weekly, the British actor revealed that the finale would feature a shocking twist that literally made him drop the script. "It's The Magnificent Seven in the back half. Rather, the magnificent eight episodes. Wait till [episode] 16. I promise you, there is one beat in 16, I dropped my script and started punching the air and did a little jig," he told the news outlet.
In the first eight episodes, the leader of Alexandria Safe Zone submitted to Negan, the sadist leader of the Saviors. But his constant torture on the Alexandrians broke all barriers that Rick had created in his heart after Glenn and Abraham's murder. Michonne, who never failed to lift Rick's morale, pushed him to fight back days and it appears her efforts have finally started showing results.
Lincoln hinted that his character will be the opposite of what he was in the first part of the seventh season. "It's probably the opposite of what you just witnessed. Certainly from Rick's point of view. You see a man in action again with some of the members of his closest family."
The fear of losing would disappear and Rick will start gathering forces to fight the atrocities of the Savior leader. In season 5, Rick did not think before killing the cannibal leader Gareth by repeatedly stabbing him after the latter threatened to wipe out his group. And from Andrew's teasers of the upcoming episodes, it appears Rick will be back in his brutal form to avenge the death of his innocent team members from Negan.
"There's a lot more levity, if you can believe that, than you've ever seen before in Mr. Grimes. There's sort of a freedom in him, a feeling that comes from losing everything, and also the thrill of the fight. It's the thrill of the fight again. He's back in. All I'm saying is that the band is back together," Lincoln said.
The Walking dead season 7 will return with the rest of the episodes on 12 February.