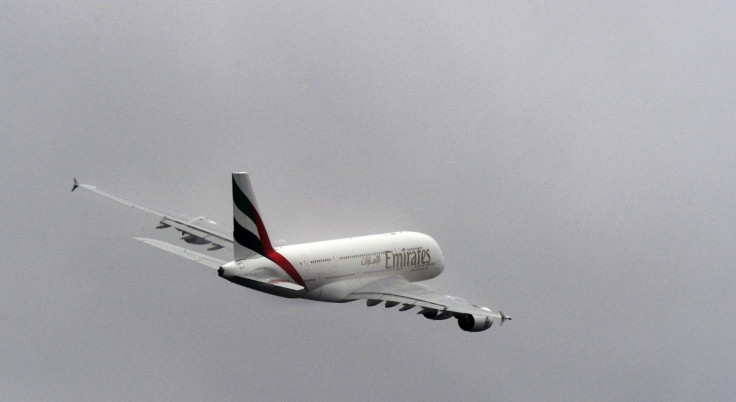 A passenger on an Emirates flight from Dubai to London had to be tied down by cabin crew and a police officer when he became violent in mid-air on Sunday (14 February). The man was restrained for two and a half hours before the plane landed at Heathrow and he was taken away by police waiting at the airport.
The flight on which the incident took place, Emirates flight EK005 from Dubai to London, landed at Heathrow at 8pm on Sunday. Witnesses told the Evening Standard that four people were attacked by the man, one of whom was headbutted. Dr Farah Jameel, a passenger on the flight, said that the incident started in the food preparation area before the man was pinned on the floor and tied up with black rope and a spare seatbelt.
"They even at one point put a surgical face mask on him, I guess to try to stop him biting them. They were wearing gloves as well," she told the Standard. "It was the second time he had kicked off. There was a police officer on the flight and he put him in a headlock."
A spokesman for the Metropolitan Police said: "Shortly after 5.30pm on Sunday, February 14, police at Heathrow Airport were informed of a violent passenger onboard a flight from Dubai expected to arrive Terminal 3 at around 8pm.
"On landing officers boarded the plane and arrested a 30-year-old male Dutch national on suspicion of common assault." Police said he is still in custody at Heathrow police station and the investigation is still ongoing.