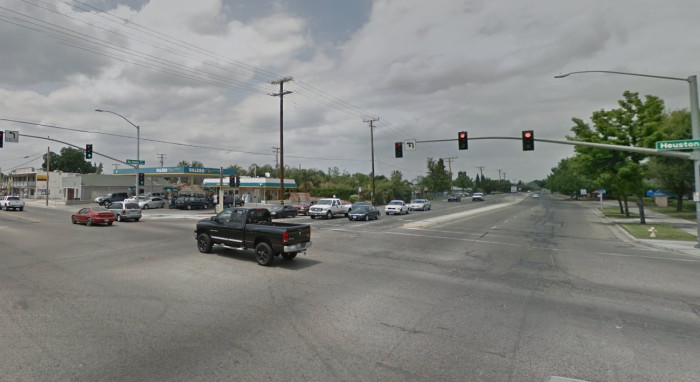 A baby delivered by emergency C-section after its mother was shot dead in a California drive-by shooting is said to be stable in hospital and in a good condition. Vanessa Rose Oviedo, 27, who was 35 weeks pregnant, was shot in the head as she sat in the passenger seat of a car in Visalia at around 9.20pm Thursday night (17 November). No-one has yet been arrested.
The vehicle's driver, Vanessa's partner Andrew Aguirre, 23, was shot in the leg but still managed to drive to Kaweah Delta Medical Center.
Three other people in the car, including an 11-month-old child, were unharmed. At the hospital Oviedo was thought to be in labour, but when medics said she had a gunshot wound no pulse doctors had to work quickly.
Surgeon Dr Renee DeNolf told Fresno television station KFSN: "I got my scalpel out. My attendant said, 'cut', so I cut. To pull that baby out and know you save him, that is something I will never take for granted."
Emergency room physician Greggory Shubert told the Fresno Bee it was the first time he had seen anything like it in 20 years working at the hospital and that if they had waited another 90 seconds the baby would have died.
"It was heroic," said Shubert. "This is something we're taught to do, but this rarely occurs."
Oviedo was said to be planning her daughter's first birthday party when she was killed. According to a GoFundme page set up to pay funeral costs she was the mother of four children.
Her sister Ebony Villa told the Mail Online she fought to stay alive until her baby was born.
"She knew what she was doing," said Ebony. "She wasn't going to stop fighting until he was born and safe."
Andrew Aguirre was released from hospital next day. Although there is said to be a gang presence in the area shootings are relatively rare events in Visalia, 190 miles (300 km) north of Los Angeles, and the incident has shocked locals.
Police Department Lt. Brian Winter said: "We suspect the vehicle was targeted. Who was the target in the vehicle? We are investigating that."