Dame Vivienne Westwood has put her punk past behind her and taken up a new design challenge. She has unveiled a new wrap jacket design she has created for the iconic Monteverdi Choir.
Renowned to be the "best choir in the world", the choristers who have been conducted by Sir John Eliot Gardiner for over 50 years have been the recipients of a piece of design history as Westwood and her husband Andrea Kronthaler designed a bespoke piece for the female singers of the group.
Fashioned out of a grey silk-cotton mix, Westwood incorporated her classic signature layered fabric and asymmetric cut whilst making sure to end up with a final product that would be comfortable and easy to perform in.
Speaking to BBC's arts editor Will Gompertz, the pair discussed the importance of comfort in the design process.
"What we don't want is the dress to stand out, we want it to be part of the whole decor of the whole orchestra, and think the colour grey is really nice and it's cotton- lined with silk on top so it's comfortable, your body can breath in it." explained Westwood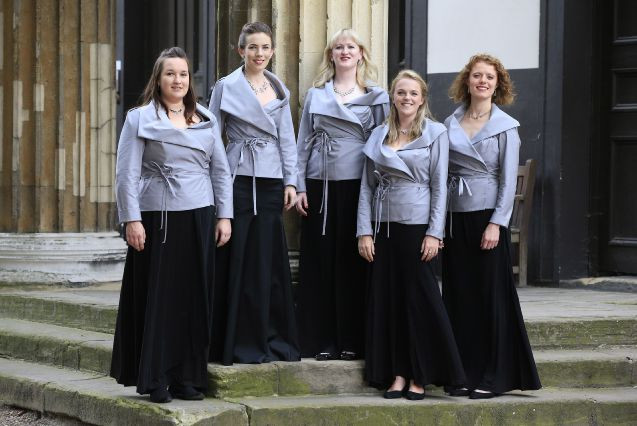 Each jacket was tailored specifically for the performer to wear, and Kronthaler noted that the design process was influenced by this consideration. "There are lots of factors and problems ... you know the main one is that all the girls are different, a different size and character so you have to find something that is good for everyone."
Designing for the performers was no chore however, as Westwood is an avid fan and regularly attends Monteverdi concerts after being introduced to the choir by the Prince of Wales, the group's royal patron, at an event at Buckingham Palace.
This is not the first time Westwood's eponymous label has collaborated with the arts having worked with the English National Ballet in 2013 on a promotional campaign as well as providing the costumes and inspiration for a radical retelling of Handel's 18th-century opera Semele in 2012.
She advises those still unsure of the thrills to be had at a recital:"I always tell people who haven't been to classic musical, go...you can get a ticket for ten quid, its better than a couple of drinks and my god, it will just blow you away. There is no more wonderful instrument than the human voice."
Sir John Eliot Gardiner, artistic director and conductor of the Monteverdi Choir, said: "There is an element of ritual to each concert performance, and dress and presentation have always been very important to us. It is important that the choir's uniform is not only striking, but practical: it needs to be able to withstand long journeys in crammed suitcases and to look smart in venues which at times can be either freezing cold or uncomfortably hot."
The designs are certainly a far cry from the infamous bondage pieces sold in Westwood's Kings Road store, Sex, that she shared with former partner Malcolm McLaren. However, when speaking to the BBC, the activist designer said that the most important thing about her clothes was their heroic quality. "When you used to wear that bondage gear you felt like a ruler of the world, walking down the street. So i just think the biggest compliment to me if our designs make, in this case, a woman look important."
One woman who has certainly taken Dame Vivienne's words to heart is the recently installed Prime Minister Theresa May who donned the designer's tartan suit to launch her successful Tory leadership election campaign. Whilst it may be good publicity, Westwood sounded far chirpier to be dressing the Monteverdi choir than seeing her suits in the House of Commons. Speaking to Will Gompertz, she asks rhetorically: "Do I mind if Theresa May wears my trousers? No, I don't mind but I certainly don't admire her for anything, I think she's awful."