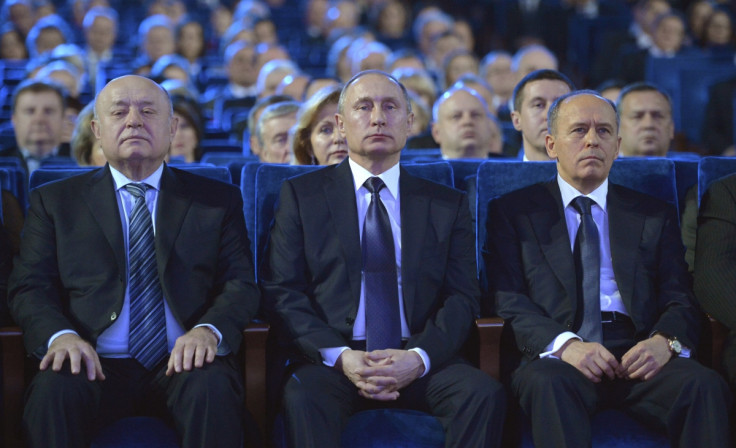 Russian president and former KGB agent Vladimir Putin has hailed "courageous" Russian spies for preventing 30 terrorist plots in 2015 on their annual professional holiday. The Security Agency Workers' Day on 19 December marks the creation of the formation of the feared Cheka secret police in 1917 and was introduced as a holiday in it's current form by Boris Yeltsin in 1995.
Putin, who was a KGB agent in East Germany in the 1980s, makes a point of addressing his former comrades on 'Spies Day' every year and during an address at the Kremlin revealed that they have exposed 320 foreign spies in 2015 and prevented "more than 30 crimes of a terrorist nature".
Many senior figures in Russia's government and business circles are former KGB agents including several of Putin's trusted inner circle. On a statement published on the Kremlin website, Putin congratulated his comrades after a lavish gala held in Moscow.
Putin said: "This is a holiday of strong and courageous people, true professionals who are reliably protecting Russia's sovereignty and national integrity and the lives of our citizens, who are ready to perform the most complicated, responsible and dangerous assignments.
"These have always been the qualities that distinguished employees of Russia's security services. On this day, we invariably remember the many generations of our predecessors who served our Motherland with honour.
"This year, as we celebrate the 70th anniversary of the Great Victory, we would like to express our deepest gratitude to our veterans. Both in the difficult war years and later you remained true to your oath and your duty and did everything within your power to develop the potential of the special services. Your heroism and courage will always serve as an example for us."
Putin mentioned the Russian spies good work in Syria, where Russian forces have been supporting incumbent president Bashar al-Assad. The holiday was previously celebrated as "Cheka Day" after being founded by Vladimir Lenin on 20 December 1917.
The conduct of the Cheka has been criticised by historians because of the widespread use of torture and the killing of thousands of people during the Red Terror. It is estimated that in just a few months in 1918, 800 socialists were arrested and shot without trial.