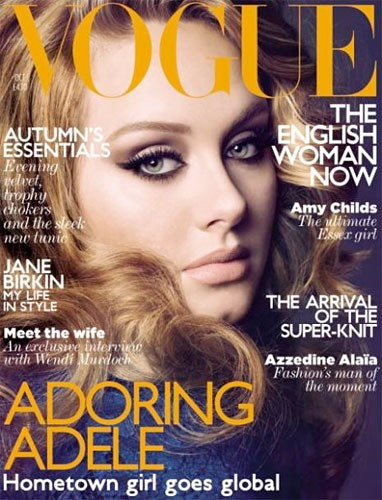 British soul singer Adele has graced the cover of the latest issue of UK Vogue.
The 23-year-old graces the cover of the October issue of the fashion magazine, which has seen past cover stars such as Victoria Beckham and Kate Moss.
Adele has quickly become one of the biggest music stars of the year, which sees her fitting for the issue, which focuses on 'The English Woman Now'
The cover shoot see's Adele glam up in a custom made lace dress by Burberry, which makes a change from her usual safe choices of black dresses.
The soul singer's makeup is also very sultry, done by Tom Ford Colour Cosmetics and big hair courtesy of Label M.
Inside the issue Adele stars in a photo-series of glamorous, retro feel pictures, echoing her musical style, as well as talking about why she won't be signing up as the face of a fashion label any time soon, reveals LDN.
In the October Issue Adele takes time to discuss the trend of celebrity diets and her ways of avoiding any pressure.
Talking about celebrity diets Adele said: "I've seen people where it rules their lives, who want to be thinner or have bigger boobs, and how it wears them down. And I don't want that in my life" quoted the Metro.
Adele faced controversy when she was photographed for U.S. Vogue back in 2009, leading to questions of whether Anna Wintour had airbrushed the singer to make her appear slimmer.
Speaking to Vogue UK Adele said: "I have insecurities, of course, but I don't hang out with anyone who points them out to me," she added, even joking about being the face of "full fat Coke".
Two years later however it all that seems to have faded as Adele has landed her own Vogue cover because she has "won over the world with her heart-breaking voice and her ability to seem as if she very much herself," Alexandra Shulman said, quoted the Catwalk Queen.
See Adele's stunning shoot in The October issue of UK Vogue on sale this Thursday.