Vorayuth Yoovidhya: Manhunt for Red Bull billionaire wanted over police death leads to Singapore
Jet-setting scion has continued life of luxury despite legal efforts to indict him over 2012 Ferrari crash.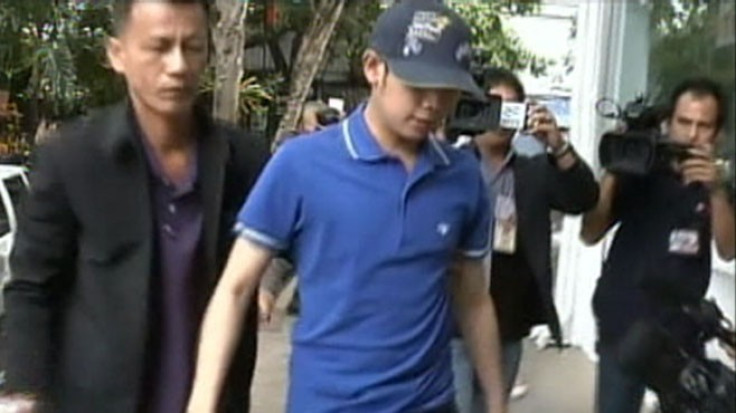 A billionaire heir to the Red Bull empire who is wanted over the death of a Thai policeman is believed to have flown to Singapore on his private jet just days before he was due to appear before prosecutors.
Vorayuth Yoovidhya, the grandson of late Red Bull co-founder Chaleo Yoovidhya, is being sought by Thai police over a suspected hit-and-run in 2012.
The 32-year-old – who lives a jet-setting life of luxury – had allegedly been racing down a Bangkok street when his £230,000 ($300,000, €275,000) Ferrari FF rear-ended a motorcycle being ridden by policeman Wichean Glanprasert.
The officer died after his body was dragged hundreds of metres down the road.
Vorayuth allegedly fled the scene, leaving behind a trail of brake fluid which led to his home in an exclusive gated community nearby.
Legal efforts to indict the Thai scion over the road death have dragged on for almost five years.
The long delays are seen by critics in Thailand as just another example of longstanding privilege for the country's wealthy class.
Vorayuth – also known as "the boss" – has failed to show up for numerous hearings, claiming unfair treatment, poor health or being tied up with business interests.
In his latest no-show on Thursday (27 April), he missed a summons for the eighth time since legal proceedings against him began.
The next day a warrant was issued for his arrest by the Thai authorities on hit-and-run and reckless driving charges, a development that could finally move the case forward.
But the Royal Thai Police have hit another snag – Vorayuth is thought to have left the country.
Officers say he flew from Thailand to Singapore on his private jet on 25 April, just two days before he was due to answer the charges. The Associated Press news agency said Singapore airport authorities had confirmed that Vorayuth's private plane was in the country as of Tuesday.
Police are seeking to confirm he is still there. While the two countries do not have an extradition treaty, Interpol officials said police informally can arrange through other means to apprehend him there.
"First we have to locate him and then we have to go from there. If we can't locate him then we can't do the next step," Thailand's deputy national police spokesman Colonel Krissana Pattanacharoen told AFP.
Thai investigators are also seeking to cancel Vorayuth's passport to prevent him travelling further afield.
Thai police had initially focused their search for the young billionaire on the UK, where Vorayuth went to boarding school and is a frequent visitor.
Last month, he was pictured leaving his £6.5m home in Knightsbridge, west London, accompanied by two female companions, having arrived in the UK by private jet.
Vorayuth's family, half-owners of the Red Bull empire, has an estimated wealth of more than $20bn and are the fourth-richest in Thailand.
Vorayuth was aged 27 when the alleged hit-and-run happened and several charges initially levelled, including speeding, have now expired.
The more serious charge of hit-and-run, which carries a penalty of up to six months in prison, expires on 3 September. The reckless driving charge, which carries a maximum sentence of 10 years of imprisonment, expires in 10 years if left unchallenged.
Despite the seriousness of the alleged offences, Vorayuth appears to have continued living his lavish lifestyle carefree.
His social media accounts and those of friends show him enjoying ski holidays, trips to Formula 1 races and flying to top destinations around the world on his private jet.
This includes London, where he keeps a black Porsche Carrera with custom license number plate B055 RBR, which stands for "Boss Red Bull Racing".
© Copyright IBTimes 2023. All rights reserved.