Valve making a trio of 'full' VR games which probably won't include Half Life 3
"When I say we're building three games, we're building three full games, not experiments," says Gabe Newell.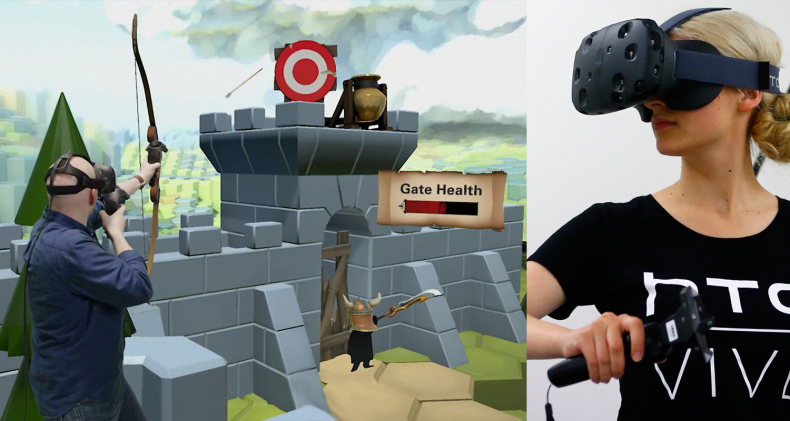 Valve founder and CEO Gabe Newell has confirmed that the studio has three "full" virtual reality games in the works, and has specified that they are full games, not tech demos or prototypes.
"Right now we're building three VR games," Newell said, speaking to Eurogamer during a media roundtable at Valve's Washington headquarters. "When I say we're building three games, we're building three full games, not experiments."
Valve developed premium VR headset the HTC Vive in partnership with electronic giants HTC. The Vive was released last year with a Valve-developed prototype game called The Lab.
Naturally Newell would not be drawn on what the games will be, but confirmed they were being developed in Valve's own Source 2 engine, as well as Unity.
Speaking of the potential of virtual reality technology, Newell said: "It feels like we've been stuck with mouse and keyboard for a really long time and that the opportunities to build much more interesting kinds of experiences for gamers were there, we just need to sort of expand what we can do.
"But it's not about being in hardware, it's about building better games. It's about taking bigger leaps forward with the kinds of games that we can do.
"VR is not going to be a success at all if people are just taking existing content and putting it into a VR space. One of the first things we did is we got Half-Life 2 and Team Fortress running in VR, and it was kind of a novelty. That was purely a developer milestone, but there was absolutely nothing compelling about it, the same way nobody's going to buy a VR system so they can watch movies."
Newell also spoke about the company's move into development of hardware and software simultaneously, citing the example of legendary Nintendo designer Shigeru Miyamoto.
"This is something that Miyamoto has always had. He's had the ability to think about what the input device is and design a system while he designs games. Our sense is that this will actually allow us to build much better entertainment experiences for people."
In January, during a Reddit AMA, Newell confirmed Valve was working on "fully-fledged single-player games", and again said yes when asked if there was "any chance of a new IP that takes place in the Half-Life/Portal universe".
His comments followed a string of disclosures about Half Life 3, the long-awaited sequel that seems unlikely to ever happen.
For Newell's full comments on virtual reality, including why Valve is developing for the market's priciest virtual reality hardware, head over to Eurogamer's article.
HTC Vive is a high-end, room-scale virtual reality package that provides the smoothest, highest-fidelity experience on the market. Supporting only PC, the Vive costs £775 on its own but requires a hefty PC to run in the first place. As is the case with most consumer tech, the price will fall with time and as the hardware progresses through its iteration phases.
Competing with the Vive are the Oculus Rift on PC and Sony's PlayStation VR, which has been the most popular premium headset due to its relatively cheaper price and the fact it needs just a PS4 to run.
For all the latest video game news follow us on Twitter @IBTGamesUK