Now that the dust is beginning to settle in the biker gangs shootout at a restaurant in Waco, Texas, it appears that police officers likely killed four of the nine dead.
Investigators are still poring over the scene and examining bodies. But preliminary information indicates that police gunfire was responsible for a significant portion of the toll, a source tells CNN.
"Our officers took fire and responded appropriately, returning fire," said Waco police Sgt. W. Patrick Swanton. None of the police officers was injured.
The row began with a fight in a bathroom of the Twin Peaks Restaurant then spilled into the dining area and patio where shots were fired. Then a mob of punching, kicking, stabbing, shooting bikers from five different gangs erupted. Police arrived within seconds from their nearby stationhouse and the bikers turned on them, said Swanton.
The broad-daylight battle was primarily between long-time foes the Bandidos and Cossacks, though also included members of the Scimitars — linked to the Cossacks — and two other motorcycle gangs, according to the New York Times.
Three bodies were later found in the parking lot behind Twin Peaks, four were found near the front of the restaurant and one had been dragged behind a nearby establishment, Swanton said. More than 100 weapons were confiscated as well, and 192 people arrested. Eighteen people, all bikers, remain hospitalised.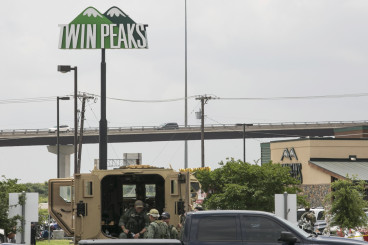 Swanton called it the "most violent and gruesome scene that I have dealt with" in 35 years of law enforcement.
The suspects remain locked up in the McLellan County Jail facing charges of engaging in organised crime linked to capital murder, according to Swanton. "It doesn't get much more significant than that," he added. A judge has set bail at $1m (£640,000) for each of the suspects.
Gun control advocates are already pointing to the violence as a cry for better controls, particularly background checks on gun owners from criminal biker gangs.
"There is no single solution to ending gun violence, but we do know that background checks on all gun sales save lives and keep guns out of the wrong hands," Angela Turner, spokeswoman for the Texas branch of Moms Demand Action, told The Hill.
"Everything is big in Texas, including big biker shootouts and even bigger loopholes that allow criminals and other dangerous people to buy guns without a background check at gun shows and online," said Jonathan Hutson, spokesman for the Brady Campaign to Prevent Gun Violence.