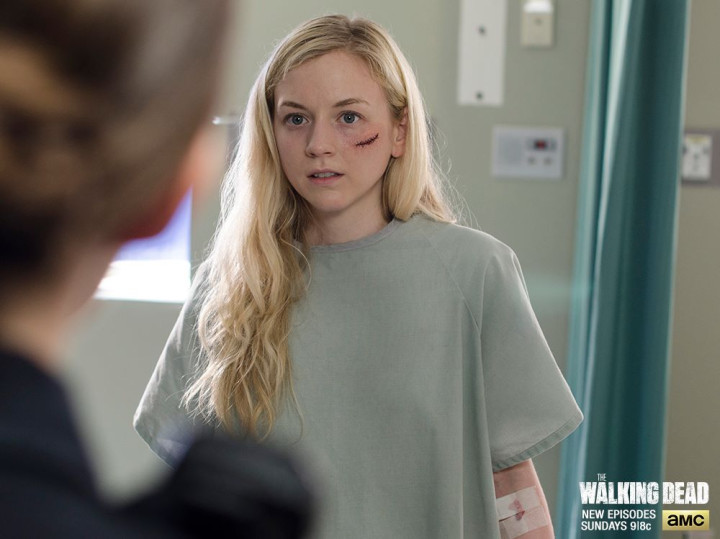 The Walking Dead Season 5 returns tonight with episode 4 titled 'Slabtown' which will mainly focus on Beth and going by the spoilers, doesn't seem like it's going to be pretty.
Entertainment Weekly shared some details on the upcoming episode, and a fan asked if they had anything on Beth's return to TWD. "Yes — we're finally going to find out what happened to Beth during Sunday's episode," EW noted. "But where she ended up is actually much worse than you may have expected."
What Can Fans Expect From 'Slabtown'?
Back in early June 2014, when they started filming Episode 4, The Walking Dead crew member - boom operator Robert K Maxfield tweeted some teases, writing: (via Wetpaint)
In a spoiler roundup for the upcoming episode, SpoilerTV states that the episode's opening scene will "surprise most viewers" and that "Beth has a moment at the end of the episode that will become a favorite moment for her fans."
What Happens to Beth?
At the end of last week's episode, Daryl was shown walking out of the woods and then yelling for someone to come on out. The episode ended before viewers got to see who it is. Several reports speculated that it might be Beth, but that seems highly unlikely.
In the trailer for The Walking Dead Season 5, episode 4 (below) you can hear Daryl talking about Beth with Tyreese and a couple of others, but it doesn't sound like he was able to rescue her.
"If Beth isn't the one who's with Daryl at the end of episode 3, maybe Carol is with him. But is she hurt? Why the dramatic entrance?" speculates a Hypable report.
Other rumours include Beth's imminent death, sparked by her no-show on the The Walking Dead set for quite some time. Click here to read more about it.
The upcoming episode's official synopsis reads: "A group of other survivors are encountered," and "Things appear safe and nice, but there is a bit of a dark side for another group of survivors."
The Walking Dead Season 5, episode 4 'Slabtown' airs Sunday, 02 November at 9 pm ET/PT on AMC followed by a new episode of The Talking Dead.
Click here to watch the episode online via live stream.
The episode will also be made available online on the AMC official website. You can click here to access.