The Walking Dead season 5 finale episode airs this Sunday, 29 March, and after last week's intense developments, fans are desperate to know what is in store for Rick and his group.
Warning: TWD season 5 finale episode spoilers ahead
The upcoming episode will reveal everything about the mysterious Wolves and their backstory will be explained. Rick and Morgan will be reunited but in extremely "bloody" circumstances. Fans will also be pleased to know that contrary to what rumours have been suggesting; Daryl will be sticking around (unless the leaked spoilers are wrong).
Here's how the opening scene of the episode plays out, as per the leaked description:
Morgan wakes up in a car. He makes some porridge-type food by a fire. An armed man (Benedict Samuel) walks over and points a gun at him. Morgan asks what the W on his head means. He explains the backstory about the wolves. He says "you know the first settlers here, put bounties on wolves heads, brought the natives into it, made them hunt them. Didn't take them to long to kill them all (points to the W on his forehead) they're back now."
After threatening to take Morgan and kill him, Morgan takes him out ninja style with his hiking stick along with a second Wolves member (Jessie C. Boyd) who jumps out of some bushes. Morgan ties them up and puts them in the car. He sounds the horn and walks off.
The summary also reveals that Rick engineers a plan to reinstate the "Ricktatorship" and hold Deanna's family at knife point so they can take the armoury.
For fans, who are disappointed about the brutal villain Negan not making his debut on the show this season, there's still hope.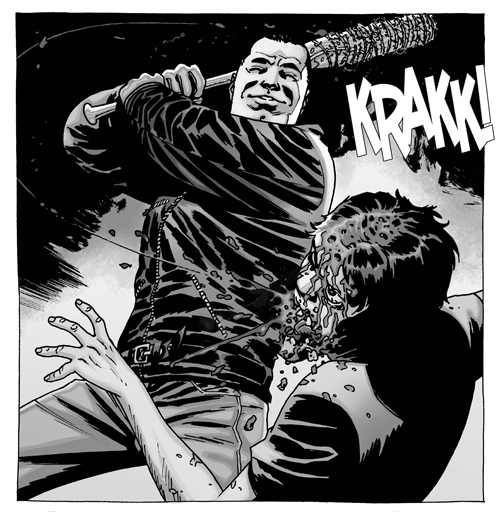 The summary mentions a special after-credits scene and even though there is no clarity on what that scene will contain, there is a chance that Negan along with his group of saviors might be introduced - as the main villain for season 6. After all, the producers have teased his role in this season, in earlier interviews.
You can click here to read the full description of the episode. The Spoiling Dead Fans, a Facebook page dedicated to The Walking Dead, has published the alleged summary.
The official synopsis for the final episode reads, "As the people of Alexandria decide what to do Rick, the truth about the W's is revealed. Meanwhile, Morgan gets closer to the safe-zone and Daryl finds himself in trouble while out on the run."
The Walking Dead season 5 finale episode titled Conquer airs tonight, 29 March at 9pm ET/PT on AMC.
Click here to watch the episode via live stream online.