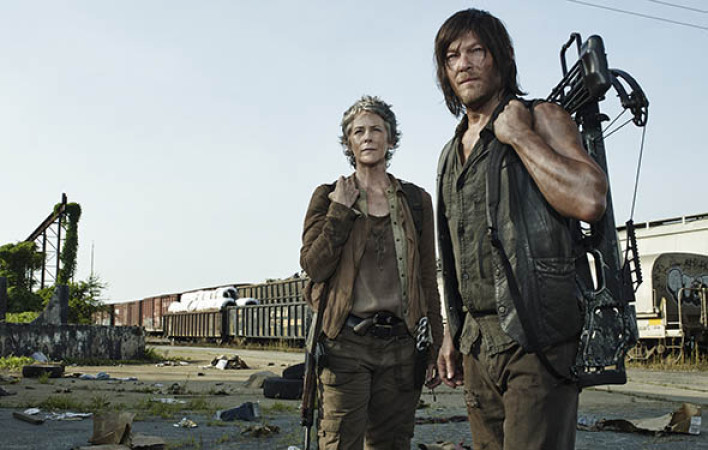 The Walking Dead Season 5 will soon air its mid-season finale and fans can't wait to learn more about the fate of their favourite characters, Carol and Beth.
Both are good friends of Daryl Dixon and both are trapped inside the Grady Memorial Hospital in Atlanta.
Many fans feel that this will be the end of Beth's story in AMC's popular zombie thriller but the sneak peek of episode 7 titled 'Crossed' indicates a shocking plot line which may play a game changer in the mid-season finale of TWD.
In the promo video, Beth Greene argues with Dawn as she decides to pull one of Grady's newest female patients off life support.
However, Beth's plea will go unanswered as the crew resolve to pull the patient, who arrived just a day ago, off life support, in order to save their resources.
One person in the hospital has already died at the hands of Herschel Greene's once fragile daughter. Design and Trend speculates that the hospital crew could force her once again to kill the new female patient who is none other than Carol.
The post apocalyptic world is a cruel place not only because of the Walkers but also because of the survivors who are trying to save supplies for their own survival and don't hesitate to kill and destroy other survivors who come in the way.
Many fans have already accepted the impending death of Beth, as she was almost absent during Season 4. Her death will open the way for the much talked about Daryl-Carol romance that fans are eagerly waiting for.
Her death may also answer the mysterious silence of Maggie on her sister's whereabouts. However, it will also end the only loving link in a world where humanity is losing the survival battle.
But it will be more than shocking if Carol loses her life in that creepy hospital.
It will be disastrous as she played nothing but a hero when she dealt with the cannibals of Terminus and single handed saved Rick Grimes, Daryl Dixon and the entire group.
Her death will also nullify her heroism and the much awaited Caryl romance.
Meanwhile, show creator Robert Kirkman has teased a deadly finale and told the Hollywood Reporter that "We do continue to evolve these human-to-human conflicts in very interesting ways, and this is no different. There are going to be some pretty unexpected events in our midseason finale, which is as it should be. On a scale of one to 10, I'd say [the midseason finale is] pretty deadly."
What do you think? Whose death will be unexpected for you, Carol or Beth's?
The Walking Dead Season 5 will return with episode 7 'Crossed' on 23 November on AMC network.