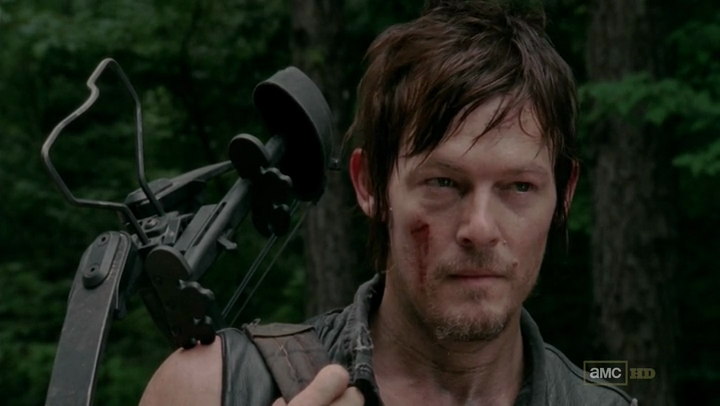 Diehard fans of Daryl Dixon may have something to cheer about as their favourite character may not turn gay in the Walking Dead, Season 5.
Norman Reedus, who plays the iconic character in AMC's zombie thriller, is apparently requesting the series producers not to reveal Daryl as a gay character in Season 5 as he fears he will lose his female fan base.
The popular TV star is reportedly scared of the fact that his female fans may not be able to deal with the shock of his character being gay.
"Producers of the run-away hit zombie show want to make heart-throb Norman Reedus's character gay – but the actor has been begging them not to do it. Insiders say he fears the same-sex shocker would hurt ratings by disappointing his legions of female fans," GLOBE's inside source explains via Celeb Dirty laundry.
"Norman isn't anti-gay in his personal life, but he's become one of the biggest male sex symbols in television. He gets thousands of fan letters from women each week – along with dozens of marriage proposals."
However, the reports don't match with the social media posts by Reedus, where he appeared totally cool about the idea.
"I remember Frank Darabont, after the first season we were at a party in L.A., He said, 'I've got an idea for Daryl. He's gay. Would you be interested in that?' I was like, 'Let me hear you out.' He said, 'Well, he's prison gay—like, you'll catch him looking at a member of the same sex, but if you mention it to him, he'll just stab you and be like what the f#$k?—he will never admit it.' I was like, 'That'll blow minds—let's do that.' And he said, 'I knew I hired you for a reason,' " Reedus told GQ about his possible gay encounter in TWD Season 5.
Show creator Scott Gimple, however, denied the revelation about the crossbow wielding warrior's sexuality in the current season.
What do you think? Will you accept Daryl Dixon as gay? Share your views in the comment box below.