The Walking Dead cast and crew members have recently teased some intriguing details about the show's upcoming season 6. "Total chaos", "loud and scary" are among the many things said about the next season.
But during the 2015 National Association of Broadcasters Show panel held on Tuesday, 14 April, series creator Robert Kirkman and star Stephen Yeun (who plays Glenn) shared details that fuel rumours related to Glenn's fate on the show.
Warning: Spoilers ahead
During the panel, Kirkman teased "a lot of cool stuff" with Glenn in the upcoming season, which may or may not involve killing off the fan favourite. Both men played coy when it came to the possibility of saying goodbye to yet another beloved Walking Dead character. (via The Wrap)
"We don't kill the popular characters," Kirkman joked.
"If I go — that could happen," Yeun said, adding that he's felt lucky to be a part of the phenomenon.
"...The way that we make the show — the writers and everybody really want to focus on making things poignant and purposeful and meaningful. So if it were for Glenn to go, then it's probably going to be awesome," the actor added.
Glenn's death on the show is directly related to the brutal villain Negan's rumoured appearance in season 6. Fans of The Walking Dead comic books will know that soon after the survivors arrive in Alexandria, they encounter a group known as the Saviors. Their leader, a sociopath known as Negan, brutally murders Glenn by beating him to death with his baseball bat.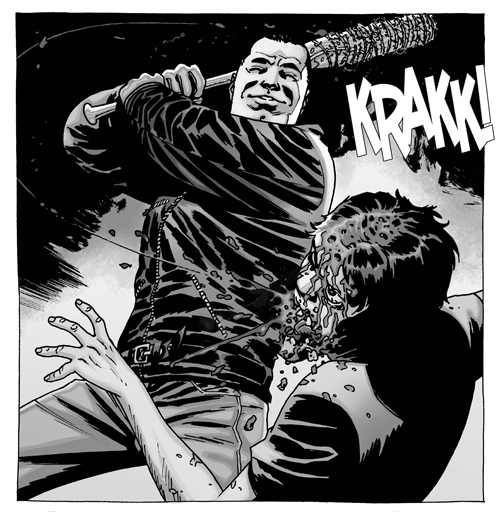 In March, actor Tyler James Williams, who played Noah, admitted that he "wouldn't be surprised" if upcoming villain Negan, kills Glenn.
Williams told The Hollywood Reporter that Glenn will become "kind of ruthless" in the episodes following Noah's death.
Talking about the possibility of the show moving forward on the same lines as the comics, Williams remarked: "If they do follow Glenn's death the way they do in the comic, it makes sense. If Glenn is so ruthless now because he's lost someone in his hands, he's going to approach Negan aggressively and that's probably how he's going to die."
The Walking Dead season 6 premieres on AMC in October 2015.