What can fans expect from The Walking Dead season 6? The show's producer Scott Gimple has already stated that in the next season, "things are going to get very big, loud and scary". The makers have now given some new updates on what's in store for TWD fans.
Executive producer Gale Anne Hurd told Zap2it that the walkers will definitely become a bigger threat as compared to season 5, and teased that the Alexandria Safe-Zone might not remain that safe for too long.
"If Morgan hadn't shown up, I'm not sure how Daryl and Aaron would have survived. They are the overwhelming majority now. The world is overrun. That's why I think seeing for the first time a walker within the gates of Alexandria may very well be a portend of things to come," she said.
Hurd also shed some light on the brutal villain Negan's debut on the show and hinted that the makers might follow The Walking Dead's comic book storyline when it comes to introducing him on the show.
"The thing is, as you know, we are always inspired by the comic book. There are times where we bring an existing panel in the comic book to life exactly," she said, talking about potentially introducing Negan in season 6.
Negan is the leader of a ruthless group of survivors called The Saviors. In the comic book, Negan and his group appear at the Alexandria Safe-Zone soon after Rick takes over. Negan also brutally kills Glenn. If he actually does feature in season 6, Glenn could be one of the major characters who get killed next.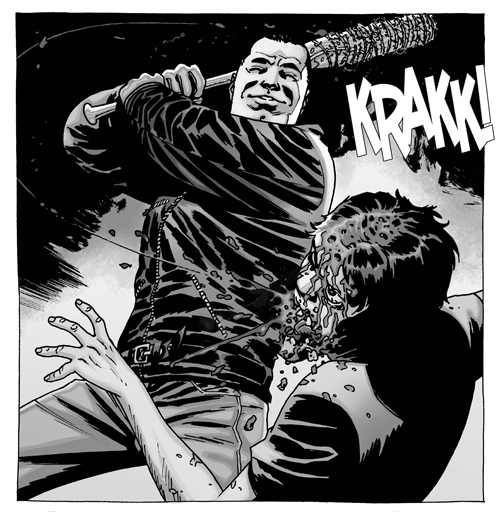 Robert Kirkman, The Walking Dead creator and show producer, also teased another new character - Ezekiel becoming a part of The Walking Dead cast saying.
During an interview with Polygon, Kirkman spoke about what he'd really like to see happen in AMC's The Walking Dead series. While Kirkman keeps The Walking Dead's comic book lore separate, he admitted he would enjoy seeing Ezekiel and his pet tiger called Shiva, in the TV series.
"There's a guy who has a tiger for a pet in the comic named Ezekiel who's really cool," Kirkman told Polygon. "I always say that I never let the show influence what I'm doing in the comic. But I will say, when I was writing those characters in the comic, I was like, 'Yeah, good luck doing this, show people!' I think that we'll be able to do the tiger. We'll see."
The Walking Dead season 6 airs in October, 2015.