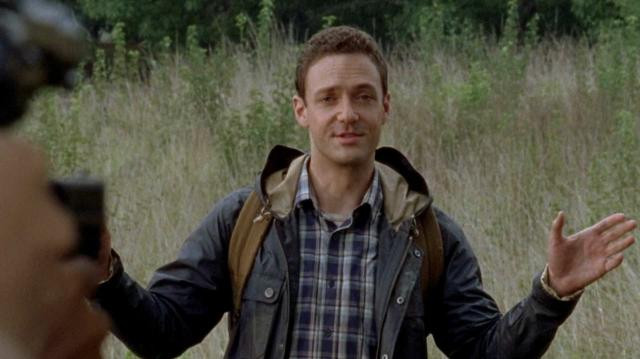 Aaron was introduced to viewers as the first gay character to appear in The Walking Dead but actor Ross Marquand reveals he was shocked by the abundance of negative responses he received over the role. However, the TV star admits he was "grateful" for the opportunity to bring attention to the issue.
Marquand, 34, began playing the Alexandrian resident in season five and the character has become a good friend to other survivors including Rick Grimes and Daryl Dixon. Explaining the public response to his role as a gay man, Marquand told the IBTimes UK: "It's been a bit mixed. On one hand, we've had very negative [responses]. But for as many negative responses, there were just as many, if not more, fans who were coming to the defence of not only Aaron but the LGBT community in general, which is really lovely to see."
He continued: "I think at first I was really shocked by the response and kind of baffled as to why people would be writing such vitriolic comments, but as time went on I was actually grateful because it sparked a debate. I think when people can talk openly about social issues, you never think your work is going to have a great social impact and then it does. It's nice to see that."
So far in season six of the hit zombie series, viewers have seen Ross discover that he may have been responsible for the Wolves finding the Alexandria safe zone, which resulted in a brutal attack on the community. Addressing his character's guilt, Marquand said: "There's a distinct possibility that even though Aaron didn't draw up the directions to Alexandria, somehow the Wolves managed to put the pieces together by looking at those photos.
Watch The Walking Dead season six episode five teaser:
"That ultimately drove them to the community in the first place. There's a massive responsibility that he feels squarely placed on his shoulders and the guilt will drive him throughout the season and the responsibility for what he's done indirectly or directly. He wants to make amends."
Viewers were thrilled with the action when the Wolves attacked Alexandria in episode two and Marquand admits it was pretty chaotic on set. The actor revealed: "I only had a few days on that episode, but even for those few episodes that I was there, it was insane. We had so many moving parts and this ever-present horn blaring first until he gets taken off the wheel when Morgan dispatches that walker, but it was insane.
"It was just utter chaos and of course, people don't know this, but Alexandria is a working community already so there's people who live there in real life. Often times we'd be shooting these crazy fight sequences and the PA will get a call and they'd have to stop production so someone could drive through and get their groceries. It was nuts but you just have all of these insanely talented stunt people falling around, leaping and doing insane stuff."
The Walking Dead airs on Mondays 9pm on Fox in the UK.