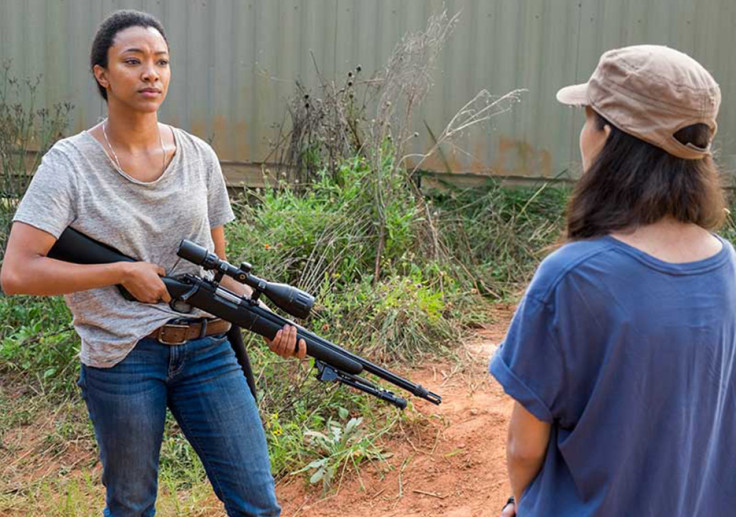 It is going to be all out war in The Walking Dead as season 7 inches closer to its finale. And like most battles, this one too will have a painful outcome. One team will emerge victories, while the other side tastes defeat, but lives will be lost on both sides.
While fans can only guess who would survive the war, it seems like two characters – Sasha and Rosita – will perish by the end of the season. Both ladies are quite impatient and do not want to wait until Rick finds weapons and more people to fight against the Saviors.
Rick, Michonne, Tara and rest of the surviving members are aware of the difficulty in penetrating the complex world around the notorious villain, but Rosita decided to ignore the warnings and asked the late Abraham's girlfriend to join her. She previously tried to kill the Savior leader, but failed miserably which led to Eugene's capture – who is now serving Negan.
In episode 14 titled The Other Side, the girls will look to kill Negan, but chances are high that they fail and may have to face their worst nightmare. Further, there is speculation that one of them may die as Sonequa Martin-Green (Sasha) has bagged a lead role in Star Trek: Discovery.
Christian Serratos (Rosita) also recently announced that she is pregnant and considering a number of action-packed scenes her character does in Walking Dead, it can be assumed that her character may be killed off.
Meanwhile, Scott Gimple told TV Line that someone will be betrayed and the promo of the 14th episode shows Hilltop leader Gregory talking to a Savior to give up Daryl. "[Season 6's finale] was the noose tightening and things getting darker and darker. This season's finale has darkness and light, real horrific moments, betrayal, and real moments of beauty, redemption, love and friendship," he told the website.
Gimple also teased an alliance between the Kingdom, Alexandria and Hilltop along with heartbreaking casualties of the war. "It's sort of the panoply of human and Walking Dead experience. There are losses. As the stakes get higher and higher... things start to get more intense and heartbreaking, and yet everyone has to sort of band together and keep going."
As Benjamin died in the 13th episode titled Bury Me Here, Morgan, who is heartbroken, tells Carol about Glenn and Abraham's deaths. The fierce lady then goes back to the Kingdom and joins King Ezekiel for the battle.
As these are just some possibilities, it remains to be seen how the teams will get along and fight their biggest enemy in the finale which will air on 2 April on AMC.