The major cliffhanger of The Walking Dead season 6 finale has left fans gasping for air after the horrible scene where Negan smashed the skull of one beloved character by beating him/her with his spiky baseball bat Lucille. The wait to know the answer, however, is overtly long as fans need to wait until October for the premiere of TWD season 7 to learn the fate of Rick, Daryl, Glenn, Michonne and Rosita and others.
Negan's "Eeny Meeny Miny Moe" game ended after he started hitting his first victim from Rick's group and the excruciating sounds of the dying character were outright painful for fans to digest. The scene sparked major fan theories, suggesting the depressing fate of three major characters — Glenn, Daryl and Michhone.
Daryl is dead: A speculative piece by Hollywood Life suggests that the crossbow-wielding warrior might have to face the wrath of the notorious villain. The gossip website reasons that it was Daryl who blew up a group of The Saviors in one of the previous episode and during his rage a car was remotely visible, suggesting that his actions were noticed by someone and it can be none other than Negan.
Glenn is dead: Robert Kirkman's graphic novel introduced its foul-mouthed villain by killing off the most popular character, Glenn. Though Steven Yuan has already said that the comic book scenes may not necessarily be repeated in the zombie thriller by AMC, there are chances that in order to conceal the major spoiler he shunned the plot.
If Glenn dies in TWD season 7 premiere, his death will have a deep impact on his love Maggie, who is pregnant with his baby.
Michonne is dead: Rick and Michonne's steamed up romance was perhaps the most loved scene of season 6. But Hollywood Take suspects that if she is getting killed in the premiere episode of TWD season 7, then an outraged Rick might get back to his beast form and savage Negan's evil empire, which is ruling post the deadly apocalypses.
But it will be a major risk for the show producers to kill her as they are already facing the heat for not showing the victim in the finale and Michonne's death will only put them in the fire again.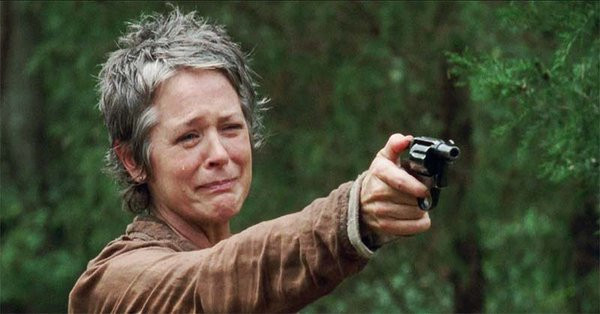 Where is Carol? Carol has always been the saviour of her team and she has proved this multiple times. In season 5, she saved Rick and the team from Gareth and his cannibal group by blowing up the Terminus in true Carol style. This time too fans are expecting her to return to her team and show her heroic valour by smashing Negan's nest and saving the rest of the hostages. However, this time it may not be possible for her as she was shot by a member of the Savior and saved by Morgan, who ultimately accepts help from two men wearing some sort of an armour.
Speculations are high that the popular zombie thriller will soon introduce another survivor group, The Kingdom and their leader Ezekiel with his pet tiger Shiva.
"We may or may not see the Kingdom," showrunner Scott Gimple teased Comic Book. "If we do see the Kingdom, it'll be a big reveal and it'll be a new world to inhabit and explore."
The Walking Dead season 7 will premiere in October this year.