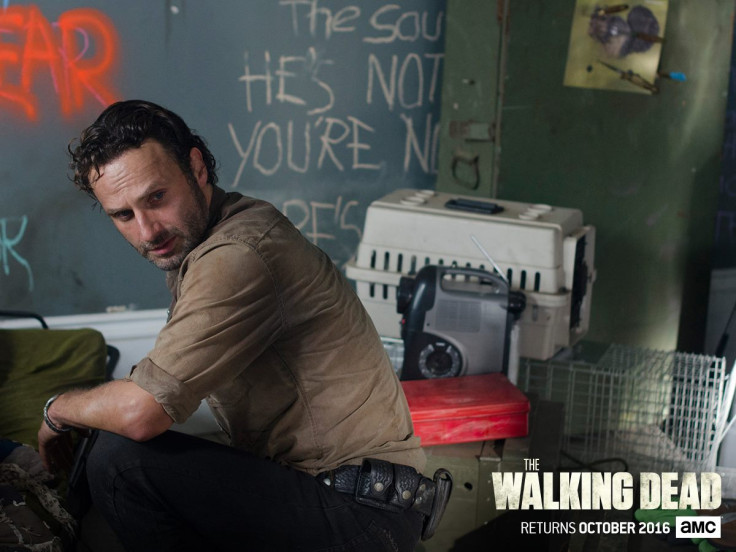 The Walking Dead season 7 premiere will reveal the face of the victim whose skull was crushed by Negan's baseball bat Lucille. Besides, the episode will also change Rick Grimes's story arc for the rest of the season.
While answering fans' questions during a Reddit AMA session, show creator Robert Kirkman opened up about the controversial ending scene in the season 6 finale and what lies ahead for Rick and his group.
"Rick will be totally broken by the end of S701", a fan wrote during the Ask me Anything session. Kirkman's answered with: "I'd say that's a fair assumption. The premiere episode of season 7 is going to be hard on everyone... Rick especially."
His answer also sparked speculations that Carl and Michonne could be in immediate danger from the Savior leader. "Michonne death confirmed... maybe," wrote one fan in the comment section.
"Rick especially? That confirms Michonne/Carl = Lucille," wrote another. In the graphic novel written by Kirkman, Glenn is the one who bites the dust but it is yet unclear how the AMC zombie thriller will adapt the book.
The blackout finale scene featuring the painful sound from the victim while his/her head is being crushed by Negan has garnered huge criticism from fans and during the AMA, Kirkman again apologised, while stating that the premiere episode would justify why they filmed the scene while keeping it a suspense.
"I do strongly believe that when you watch the season 7 premiere (if you do) you will see the two halves of the story and it will all make sense why we did what we did. But a whole heck of a lot of you folks are unhappy. I'm not kidding myself about that. Season 7 is very strong, we know what's coming. If you stick around... you'll like where we're taking things," he added.
TWD season 7 will premiere in October on AMC.