An online fundraising campaign for the South Carolina police officer accused of murdering an apparently unarmed fleeing black man has been removed after just one hour.
Officer Michael Slager has been charged with the murder of Walter Scott after a video emerged of him shooting the 50-year-old after he attempted to flee after a traffic stop.
Slager originally told police he fired at Scott as he feared for his life after the pair fought for his stun gun. The video, obtained by the New York Times, appears to contradict this version of events.
Moments after shooting Scott, Slager says on his radio: "Shots fired and the subject is down. He took my Taser," according to police reports. He then walks over to the body and shouts "Put your hands behind your back now, put your hands behind your back" before placing his limp arms in handcuffs.
After shooting at Scott eight times as he runs away, Slager can be seen returning to where he opened fire and appears to pick up an object before placing it next to Scott's motionless body.
At no point in the video, which does not show the initial "scuffle" between the pair, does Scott appear to be armed.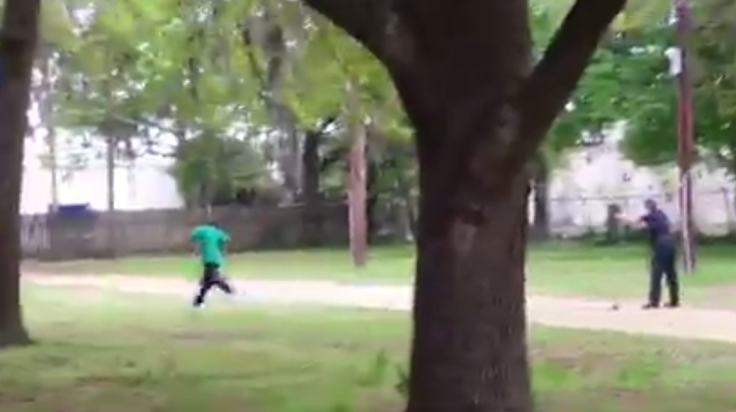 In the wake of Slager being charged with murder, an fundraising campaign for him so he can have a "fair shot in court" appeared online.
The defence fund campaign was set up Culture Fight, an organisation that is "dedicated to promoting traditional values against an ocean of liberalism".
A description of the fundraiser page, which appeared on the site Fundrazr, said: "Policemen and policewomen all over our country are under assault from liberal interests who hate the police. This case is going to be bigger than Ferguson. Officer Michael T Slager needs our help.
"We are establishing this defense fund so he can have a fair shot in court against Al Sharpton, Jesse Jackson and all the rest of the race hustlers who want this man convicted before he has had his chance in court.
"This man is innocent until proven guilty.
"SHOW AL AND JESSE WHAT A******s THEY ARE BY DONATING TO OUR FUND. It will be like sticking a finger in their eyes.
"All funds raised will go to him and his family so they can hire competent legal counsel."
IBTimes UK has contacted Fundrazr for comment on the fundraising campaign. Its terms and conditions state users must not upload or submit material that is "unlawful, harmful, threatening, abusive, harassing, tortuous, defamatory, vulgar, obscene, libellous, invasive of another's privacy, hateful, or racially, ethnically or otherwise objectionable".
The campaign appeared to be online for less than one hour.
The FBI and the Justice Department's Civil Rights Division said they will also be investigating the shooting, which occurred on 4 April. Slager had reportedly stopped Scott for a broken brake light.
"The Department of Justice Civil Rights Division and the South Carolina US Attorney's Office will work with the FBI in the investigation. The Department of Justice will take appropriate action in light of the evidence and developments in the state case," the Justice Department said.