Watch The 100 season 3 episode 3 online: Will Clarke and Sky People trust Lexa again?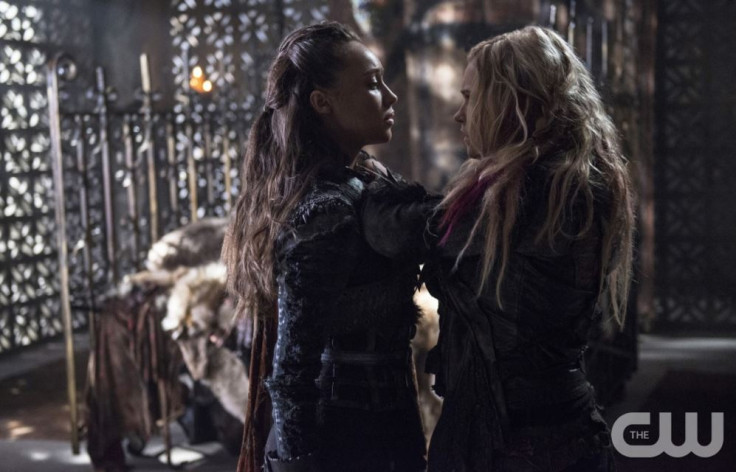 In an all new episode of The 100 season 3, Clarke Griffin and the Sky People will have to decide whether or not to trust Grounder's leader Lexa again. Episode 3, titled Ye Who Enter Here, airs this Thursday (4 February) at 9pm EST on The CW.
The official synopsis reads as follows:
Clarke (Eliza Taylor) wrestles with a decision. Bellamy (Bob Morley) learns that something isn't what it seems. Meanwhile, Murphy (Richard Harmon) plots to betray his former Chancellor (Isaiah Washington).
Click here to watch the episode online on The CW website (US viewers only).
Fans remember that Lexa broke Clarke's trust in season 2 finale after which she is less than willing to believe her words. However, with the Ice Nation threat looming large, maybe there is no way out. A promo shows Lexa telling Clarke: "I want your people to become my people." A big summit will happen in the episode between Arkers and Grounders but a Grounder will warn Bellamy that it is a trap. She says: "At sundown, your people will die."
Then promo then shows Lexa telling Clarke: "Bow before me and your people will survive," but Clarke turns down her offer. The promo ends with a loud explosion.
Executive producer Jason Rothenberg previewed episode 3 in a promo video. He said: "Clarke is sort of a royal prisoner, and she is going to be kept there for her own protection. Held for her own security, because she would take off again the second she could."
According to Rotherberg, the episode will focus on Polis, the Grounders capital. He said: "We really for the first time tell a huge story in Polis. This becomes a huge location for us all season long."
Speaking about Bellamy, he added: "He is kind of on the outs, like he has been put on the bench, he is wounded, injured right, so there is a big mission that happens in episode 3, and he is not a part of it. And he wishes that he was a part of it.
"Something happens in the episode, where he is sort of forced to get into action. Will he get there in time? We have to watch the episode."
© Copyright IBTimes 2023. All rights reserved.