Fan-favourite prison drama, Orange Is The New Black returns with its fourth season on 17 June on Netflix. The network has also released a trailer featuring the return of Litchfield prisoners Piper Chapman, Alex Vause, Tasha Jefferson aka Taystee, Galina Reznikov aka Red, Sophia Burset and others.
The fourth season will add many new characters to the show, as season 3 ended with new prisoners arriving at the Litchfield Penitentiary.
Here are a few things to expect next in the series:
Warning: Spoilers Ahead
1. Actor Laura Prepon, who plays Alex Vause, teases her character's role in the upcoming season in an interview with Entertainment Weekly. The third season of OITNB ended in a cliffhanger with Alex being ambushed by an undercover assassin sent by a vengeful drug dealer.
Alex will survive the attack. "What's cool is season 4 actually picks up right where season 3 left off. So it's literally, it continues five seconds later, which is really great because at the end of last season...I was in the greenhouse, and there was all this craziness going on and it's awesome," Prepon said.

Speaking about Alex and Piper, the 35-year-old actor also revealed that her character has an "F you Piper" moment. "That's their relationship, and that's what's so interesting about them. They love each other and they hate each other, and it's frustrating and passionate, but there's definitely some vindication there, for sure. Piper thought she was crazy all season, but she wasn't."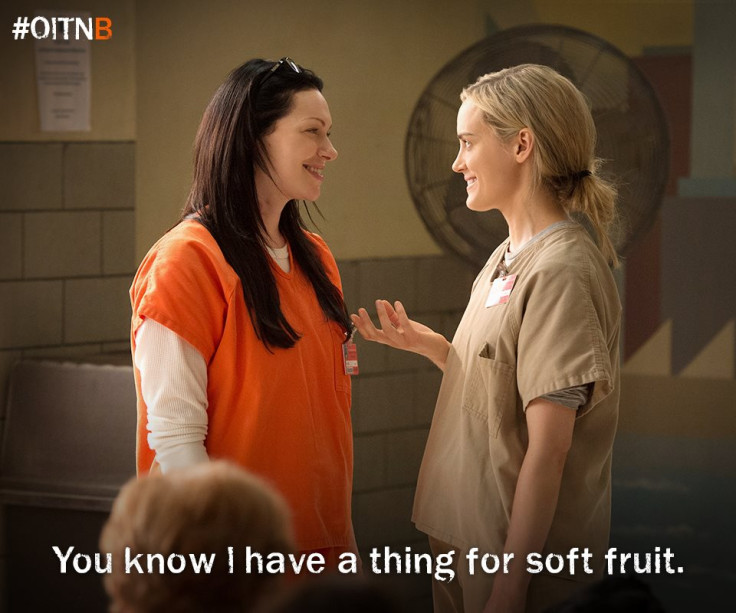 2. Season 4 of OITNB will get to the backstories and introduce new characters. According to Laura Prepon, season 4 is one of the best seasons so far. She said, "This season I think is one of our best by far, and I think the fans are going to be really happy. Our writers are so good and Jenji is just so awesome, and they really, we just keep proving ourselves over and over again and Netflix just let's us do our thing, man, it's incredible."
3. According to another report from TV Guide, the central issue that will plague Litchfield is prisoner overcrowding. Kate Mulgrew, who plays Red in the series, said, "[The overcrowding issues] are going to carry over to every nook and cranny in our prison, believe me when I tell you that."
"What [creator Jenji Kohan]'s going to do that no other creator is capable of doing with such expertise is, she's going to make you feel overcrowded," she added.
4. Actress Jolene Purdy has booked a recurring role in the upcoming fourth season of Netflix series, reported Deadline. The details of her character have been kept under wraps.
5. Sophia Burset's story in season 4 is "challenging" according to Laverne Cox. Speaking about season 4, she told E! Online, "It was a joy to play and I felt like I was pushed in ways that I didn't anticipate and it was really challenging and that is always wonderful as an actress. I had a really good time."