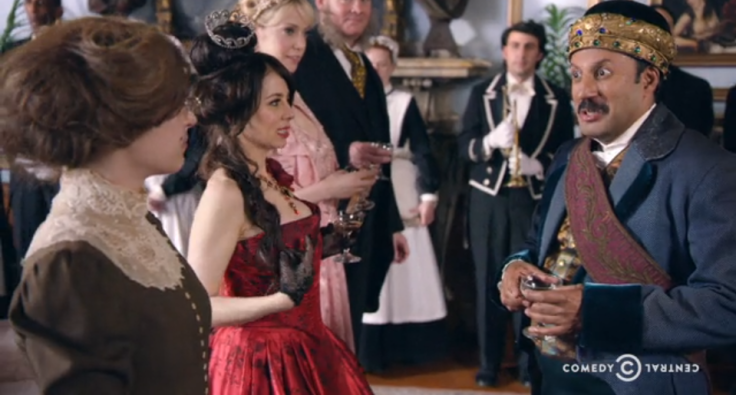 It's time for the third episode of Another Period season 2. In this week's show titled The Prince And The Pauper, the Bellacourt sisters are going to turn bitter rivals all for the sake of a rich husband.
In the episode, which airs on 29 June on Comedy Central at 10/9c, Lillian (Natasha Leggero) and Beatrice (Riki Lindhome) are tasked with impressing their royal guest Prince Apato (Rizwan Manji from NBC's Outsourced), in the hopes that he will marry one of them.
Going by the teaser, the heiresses are ready to bend over backwards to impress the aristocrat and win themselves a marriage proposal.
"I've been lifting weights with my vagina in anticipation of my future husband's arrival," Lillian mentions at the start of the clip. "I hope he likes muscles."
Not to be outdone, when the prince finally arrives with much fanfare and ribbon dancing, Beatrice reads him a poem.
Unable to choose between them on the spot, the prince decides to go on individual dates and see which of the two women charms him the most.
We can definitely expect some serious sibling rivalry in episode 3 as the two vie for a rich husband. But the competition is not only between Lillian and Beatrice. Peepers (Michael Ian Black), the Bellacourt head butler is in a standoff with Prince Apato's personal butler Parshwal, played by Aasif Mandvi (A Series Of Unfortunate Events).
In the previous episode, Chair (Christina Hendricks) gave everyone a surprise by waking from her coma. However, it looked like she had not regained her memory yet and asks the maid Blanche to throw her down a flight of stairs because she can't stand living without knowing who she is.
The mentally unstable Blanche, who was responsible for putting Chair into a coma in the first place, complies and sends her toppling down the narrow staircase. However, instead of causing harm, the fall helps her get her memory back. "I know who I am. I'm Chair... and I'm a b***h!"
Watch Another Period season 2 episode 3 on Comedy Central at 10/9c or watch it online on the network's official website.