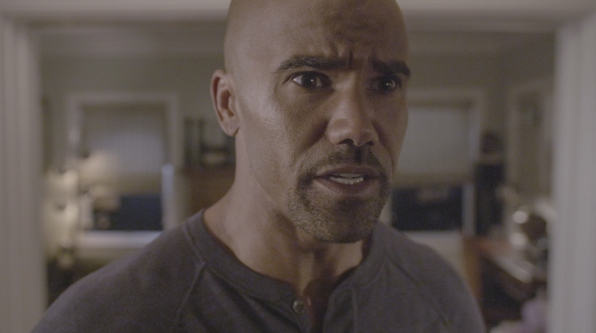 Episode 18 of Criminal Minds season 11 will uncover the truth behind the epic cliffhanger ending in the previous chapter. The upcoming episode is titled A Beautiful Disaster, which will reveal whether Derek Morgan or his pregnant wife Savannah Hayes was shot at the end.
The episode airs on 23 March at 9pm EST on CBS. Click here to watch the episode online, or you can watch the episode via live stream by clicking here.
Warning: Spoilers ahead
In the previous episode, a man shot at Derek or his pregnant wife Savannah Hayes, but the episode ended before revealing who actually took the bullet. However, it seems like it was Savannah who was hit, as a preview shows a visibly shaken Derek drenched in blood, while Savannah is being taken to hospital in an ambulance.
A fuming Derek tells Aaron Hotchner, "I cannot sit here and do nothing." Following which, the BAU chief says, "You are off the case." However, Derek pays no heed to his team members and goes after Savannah's shooter. The video shows Penelope Garcia telling everyone that Derek is walking into a trap, a distressed Morgan says Garcia , "Baby girl", which is followed by multiple gun shots.
Then, the voice-over says, "One heart-breaking moment will become the most powerful episode of the season."
Mentioned below is the synopsis of the upcoming episode:

When an UnSub targets the BAU, and the team goes into action to find out who is responsible, on Criminal Minds.
Meanwhile, writer Kirsten Vangsness teased a lot of emotional moments in the episode. She told TV Line, " Oh, God.... I'm going to say 'hope' first. And there will probably be some frustrations; I know you can't use the word 'blue balls', but if there was a G-rated version, I would say that.
"Usually the last act of our show is a couple of pages, and this is 15 pages. It's a lot. In terms of the resolution of things, certain things wrap up very quickly in one part of the show, and then all of a sudden the last part of the show wraps up other stuff. I know some people who have shed copious amounts of tears watching it, I can say that," she said.
To find out, if Savannah was actually shot, watch Criminal Minds on CBS 23 March at 9pm ET.