Dubai's plans to operate a fleet of self-flying drone taxis have taken off after the first public demonstration of the vehicle's test flight was adjudged a success.
Volocopter, the German company behind the autonomous urban air taxi, fired up the 18-rotor electric drone to conduct its first proof-of-concept flight as it hovered and swooped in the sky without a pilot above a patch of desert near the Jumeriah Beach Residence area.
The Autonomous Air Taxi (AAT), which is essentially a giant version of a consumer drone but with seats, took off vertically without passengers and was in the air for a brief maiden voyage.
The current prototype drone is able to fly for 30 minutes at a maximum speed of 62mph (100km/h) and is likely to see improved speed and flight time as the AAT is developed.
The flight has given the public the first real glimpse of what to expect when the drones are set to enter service when all safety boxes have been checked over the next five years.
Users will be able to summon the pilotless craft akin to an Uber app and will transport passengers across the city. The aircraft will then return to a landing pad where it can be recharged.
It also gave the first real look inside the two-metre-wide, two-seat air taxi to reveal a fairly intimate cabin and a dash unit displaying flight data.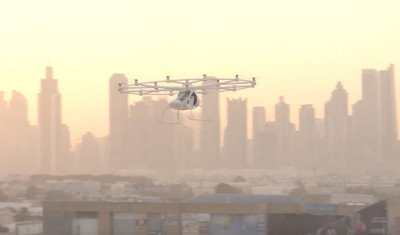 Mattar Al Tayer, Director-General of the RTA said the vehicle had advanced safety features including "multiple redundancies in all critical components such as propellers, motors, power source, electronics and flight controls. It is also fitted with optional emergency parachutes".
The test was also monitored using the latest drone tracking system that will be in place to ensure flight safety over Dubai airspace.
"This is a something that has never been done before. We are so happy that this happened in Dubai. From a DCAA perspective, this proof-of-concept flight makes history and we are proud to be a support entity," said Michael Rudolph, Head of Aviation Regulations and Safety, Dubai Civil Aviation Authority.
The AAT will be the world's first self-flying taxi and will join Dubai's first driverless metro in the forward-thinking city, which is also said to be eyeing up a Hyperloop high-speed transportation system.