The Flash returns with an all new episode tonight, 28 April at 8pm on The CW Network.
Episode 20 is titled The Trap, where Barry and Cisco plan to trap Harrison Wells.
Click here to watch the episode online on The CW's website.
The official synopsis of the episode reads as follows:
Barry (Grant Gustin), Caitlin (Danielle Panabaker), Cisco (Carlos Valdes) and Joe (Jesse L. Martin) set a trap for Wells (Tom Cavanagh). Cisco uses himself as prey which puts him in grave danger. Meanwhile, Eddie (Rick Cosnett) makes a decision regarding Iris (Candice Patton), which leaves Joe a bit unsettled.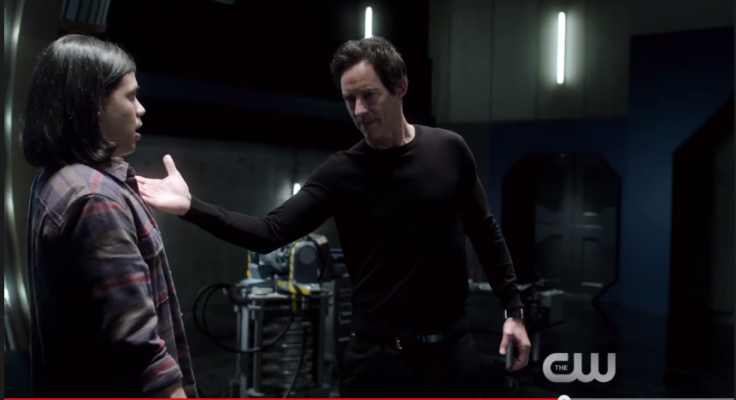 In the previous episode titled Who Is Harrison Wells, the main characters of the show learnt that Dr Wells was indeed killed in an accident 15 years ago and the man in the wheelchair is an impostor. The Star Labs team also discovers the time travel bandit's secret room, where the Yellow Suit was kept.
In the upcoming episode The Trap, Caitlin, Cisco, Joe, and Harry will set out to catch the impostor, but this could be life threatening. So the question arises; will this cost a life?
The promo of the episode shows Harrison Wells, revealing himself as the Man in the Yellow Suit, and he tries to kill Cisco. As it is known that Wells tries to kill the scientist in episode 15, but his death was erased from the past timeline, he could still see the entire sequence, like a dream.
A TV Line report suggests that this Tuesday's episode will explain how Cisco could "see" his death in another timeline.
Executive producer Andrew Kreisberg said, "We all know that Vibe's [Cisco's] powers are derived from the powers that separate the dimensions. And alternate timelines can be considered alternate dimensions. So, it's not the worst inference anyone could make."
How things will unfold on the show from hereon remain a mystery, but definitely there will be some twists that will leave fans in shock. To know more, watch The Trap, that airs on 28 April on The CW Network. Meanwhile, check out the promo of the episode below.