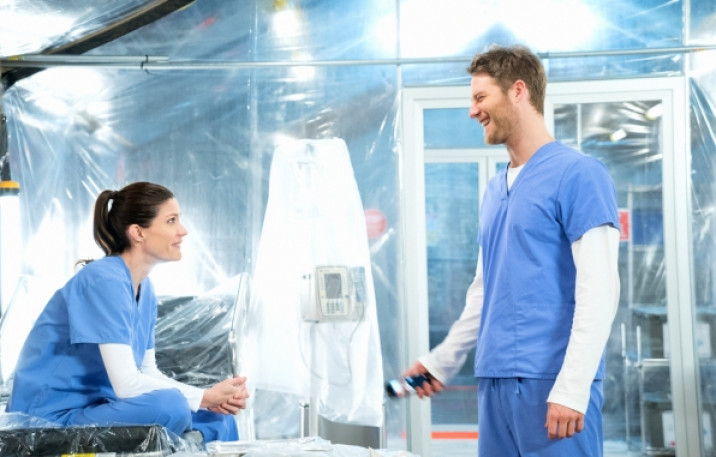 Agent Rebecca Harris and Brian Finch's friendship will be at stake after the FBI agent finds Brian using his secret stash of NZT in an all-new episode of Limitless season 1. Episode 17 is titled Close Encounters, which will air on 8 March at 10 pm EST on CBS.
The official synopsis reads as follows:
Brian and Rebecca are placed under quarantine by the CDC after being exposed to an unknown substance after investigating a citywide blackout. Also, trust issues arise after Rebecca catches Brian using his secret stash of NZT
Click here to watch the episode live on CBS All Access. You can watch the episode online by clicking here.
In the previous episode, Brian found out that his handler Sands, killed Rebecca's father, and the orders were carried out by Senator Morra. A promo for the upcoming episode shows Brian debating with his alter ego about avoiding Rebecca. Brian says, "Dude, what am I supposed to do? You know when I'm around her, all I can think about is I know Sands murdered her dad. That the person who killed him is the same one keeping me alive. But can I tell her that?"
His alter-ego replies, "No, because that would mean you would have to tell Rebecca that you were Senator Morra's mole in the FBI, which would mean losing the enzyme, your immunity, my freedom, my life and even if you found some way to dodge all that, you'd have to go back to being just Brian."
Brian will not be able to avoid Rebecca, as a citywide blackout and bio-threat will force both of them to work together, as they are being quarantined by Centers for Disease Control and Prevention (CDC). The FBI agent will also figure out about Brian's secret stash in the chapter.
Jake McDorman, who plays Brian, previously told Entertainment Weekly, "Eddie Morra storyline and Rebecca finding out about NZT, all that's kind of coming to a boiling point to launch us into the end of the season."
To know more, watch the upcoming episode of Limitless, this Tuesday on CBS.