Going to Disney World is a dreamlike moment for children, but for two foster children, Janielle and Elijah, it was made even more magical as Mickey Mouse himself delivered the ultimate surprise to them – their adoption date.
Foster parents Tom and Courtney Gilmour took the help of the mouse to announce the happy news to their children. The incident took place in April at Disney World Studios in Florida, US.
Janielle, 12 and Elijah, 10, arrived at their foster parents' house in Pennsylvania three years ago, according to Fox 13 news.
Just before the family left for Florida on their planned trip to the Magic Kingdom and Star Wars Convention, the couple said they got to know the exact adoption date and decided to surprise the children.
"I thought, 'How cool would it be for Mickey to hold up a sign telling the kids,'" Gilmour told Fox 13.
She said she had shared her ideas on Twitter once they arrived in Orlando and received a positive response from Disney World. A special meet and greet with Mickey Mouse was soon arranged for the family.
The entire moment was captured on video, which Gilmour shared on her Facebook account earlier this month.
The video shows Mickey greeting the children and playing a card game with them. The excited children then take a photo with the mouse. Just then a sign reading their official adoption date is presented to the children.
Janielle and Elijah are seen reacting with tears of joy and Mickey Mouse is seen hugging the emotional and surprised children.
The parents join their children for a group hug and an emotional photograph with the mouse.
"The kids had no idea any of this was happening. They just thought they were getting their books signed," the thrilled mother wrote on Facebook as she shared the video. "They were beyond shocked and we were beyond emotional."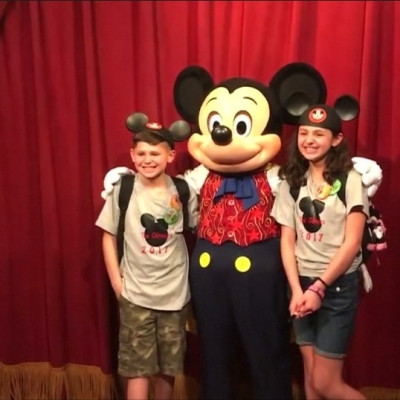 Gilmour's video has gone viral with more than 1.5 million views in two weeks. She said she shared the video hoping that it would draw attention to the foster care system and adoption.
She believes the video will serve its purpose if at least one family gets involved in helping foster children.
"Being a former foster child myself and now a foster/adopt mother, it's very important we don't forget there is lots of help needed," the mother said.