With four more episodes left of Power season 2, fans can expect the action and violence to really escalate… especially now that Angela knows the true identity of Ghost.
The upcoming episode 6 of Power season 2 will reveal how Angela intends to imprison the man with whom she has been having a secret affair! The episode promo also teases that Ghost will try and figure out his next move.
The official synopsis for episode 6 titled 'Why Her,' reads:
"After the revelation that Ghost and Jamie are the same man, Angela seeks proof; the drug syndicate picks up a new member; and Tasha protects her future by making the ultimate sacrifice."
What will Tasha's "ultimate sacrifice" be? Will she become the "new member" of the drug syndicate? Or will she align with Angela to help her capture Ghost?
Synopsis for next week's episode [episode 7] titled 'You're Not the Man' reveals that there might be some sort of a confrontation between Ghost and Angela wherein he "explains his actions" to her. The synopsis also adds that "Tommy becomes worried after Holly speaks with the feds."
Meanwhile, the executive producer of the series, Curtis '50 Cent' Jackson, is already firing off subliminal messages about the show's season three.
On Thursday, the rapper took to Instagram with a photo snapped from the Power writers' room and going by the caption he's put, it seems like one of the cast members will be serving hard time behind bars next season, reports MadameNoire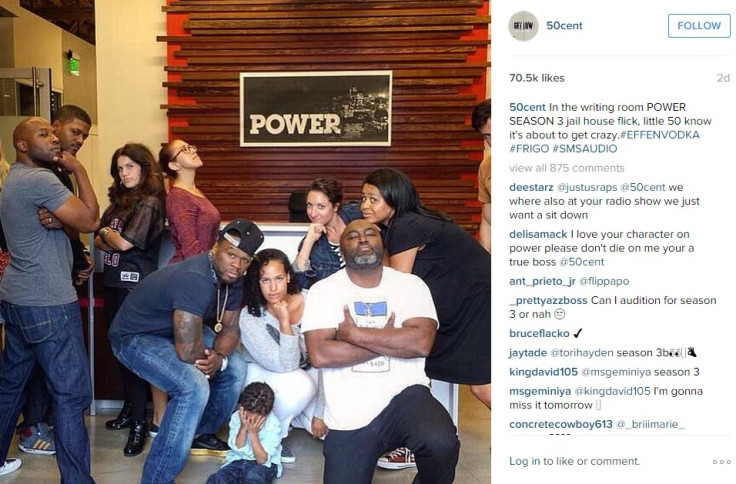 Power season 2, episode 6 'Why Her' airs on Saturday 18 July at 9pm ET on Starz.
You can click here or here to watch the episode live stream online.