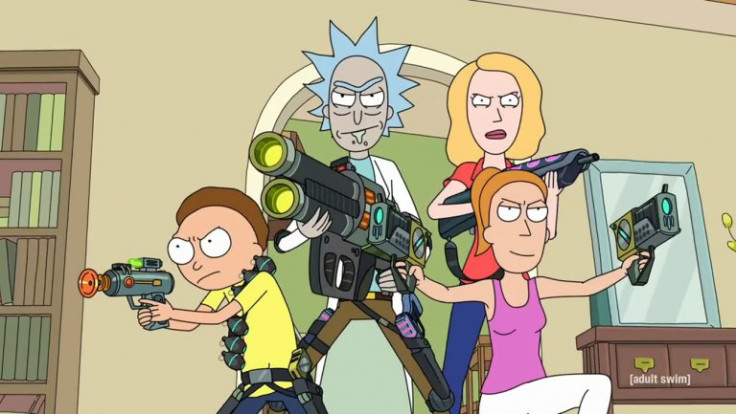 Animated Adult Swim show, Rick and Morty returns with its second season this Sunday, 26 September with more of time travel adventures.
The premiere episode is titled, A Rickle in Time, which will pick up from season 1 finale events.
The official synopsis reads as follows:
Click here to watch the episode via live stream, and you can watch it online by clicking here.
Show co-creators Dan Harmon and Justin Roiland in an interview dished about season 2 hopes and teased more chaos and lots of alien planets.
Harmon told The Hollywood Reporter, "The show gets more chaotic in season two, and I think it's the good kind of chaos. The universe gets bigger, the characters gets more dimensionalised and overall there are way better episodes than the best episodes of season one, side by side with maybe worse episodes than your least favorite from season one.
"I compare it to fishtailing as you round a corner — your car is careening, and you're correcting the steering. It's a little more out of control, but it's kind of cool," Dan added.
When asked about his favorite Rick and Morty episodes from season two, Roiland said, "Rick learns a lesson in an episode — I think you'll find that pretty delightful.
"There's an episode where Summer (Spencer Grammer) and Jerry (Chris Parnell) have a father-daughter storyline, which I think is touching. And you'll get to meet a lot of zany new characters that hopefully will join the ranks of the beloved characters from season one. And a lot of planets — we're going to visit a lot of alien planets this season," the creator teased.
Sarah Chalke, who voices Beth Smith, talks Rick and Morty season two and teases brilliant script.
Chalke told Paste magazine, "The Rick and Morty scripts are actually so brilliant. I love them. I get excited to read the new episodes that come out. Dan and Justin are ridiculously talented. The scripts are actually very descriptive since it's sci-fi."
"After we got to see the animation from season one you get an idea of what it's going to look like. You can kind of start to imagine it. But it is a different way to work where it's kind of like just you and a microphone, and there's suppose to be a giant monster chasing you and you're just screaming. Or, some emotional scene where you're suppose to be trying to tear up, "Sarah teased.
The series follows Rick, an alcoholic scientist, and his intellectually impaired grandson, Morty, on their adventures to alternate dimensions. These adventures commonly cause trouble for Morty's family, who are often caught up in the mayhem.