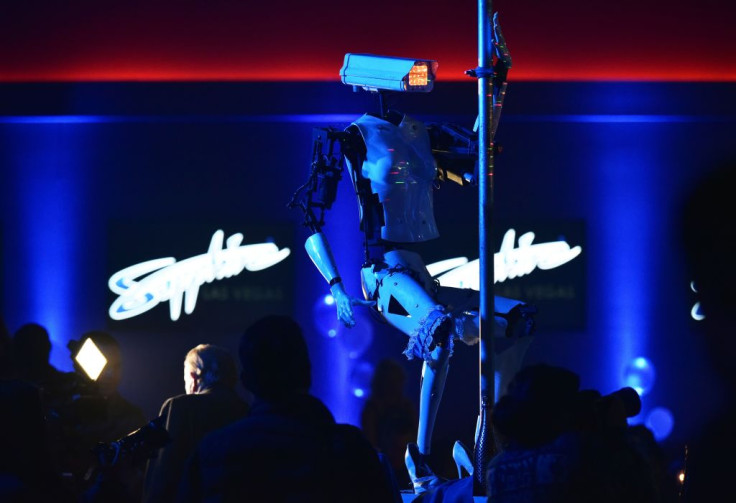 We have seen a robot DJ turn up the beat, but can a metal machine take up the stage and nail some dance moves? Apparently yes!
Last week, a strip club in Las Vegas debuted two robotic exotic dancers in a bid to attract attendees from CES 2018, the biggest consumer electronics show of the year.
Sapphire Club, which is also billed as world's largest nightclub, unveiled "#R2DoubleD" and "#TripleCPU" on 8 January 2018. The robotic twins took the stage and nailed some insanely realistic dance moves while gyrating on poles.
"We thought this would be a great way to tie into the CES crowd," Sapphire owner Peter Feinstein said told Las Vegas Review-Journal before the unveiling.
"These robots are interesting because of the technology, and they're a lot of fun. They really are art pieces, originally." The robots rocked the club throughout last week but were not an official part of the global tech show.
While the club's website notes the bots can leave anyone wondering if they are real, the fact is the robotic siblings do not share any visual similarities with their human counterparts – apart from dancing skills. Their heads are shaped like CCTV cameras and wiring is exposed all over their bodies.
As one could guess, they weren't originally developed to dance in a gentleman's club. According to a report in Recode, they were created as a response to the rise of surveillance cameras or "mechanical Peeping Toms" in Britain.
"At the time (when I made them), they were putting CCTV cameras up all around London, and Britain was becoming the most surveilled society in the world," kinetic sculptor Giles Walker who built these machines told The Verge in December. "So I was playing with this idea of voyeurism, and who has the power in that relationship; whether it's the voyeur or the person being watched."
Walker also said that he didn't want to be a part of the sex industry as things could get really worse with robots getting into the scene.
"My worry is — and this is really crude, but it is a crude idea — if you build a robot that you can have sex with, then you can build a robot that you can rape, and you can build a child robot that you can have sex with, and it's all supposedly legal," he said while speaking to Recode.
"But [just] because it's legal, does that mean it's a healthy thing? The dark side of the sex industry will create some really nasty, nasty stuff, and I think, 'Is it worth it?'"
Once the robotic show is over in Las Vegas, Walker will take his creations to another segment of the industry and rent them for corporate parties.