The season 2 finale of Star Wars Rebels will be a one-hour special which will air on 30 March at 9pm ET/PT on Disney XD. The episode is titled, Twilight Of The Apprentice, where Ezra Bridger, Kanan Jarrus and Ahsoka Tano will travel to Malachor and will run into Darth Maul at the temple of doom.
The finale will also feature the eagerly-awaited confrontation between Ahsoka with her former master, Darth Vader. The two will engage in a fiery lightsaber battle, as shown in the trailer.
The synopsis for the episode reads as follows:
After gaining information about the Sith, Kanan, Ezra and Ahsoka battle the Inquisitors with the help of a new ally, but are overmatched when Vader arrives
Click here to watch it episode via live stream. You can also watch the episode online on the Disney website.
Executive producer Dave Filoni spoke about the finale episode in an interview with Entertainment Weekly. On Ahsoka and Vader's confrontation, he said, "We've taken all season long to educate viewers that maybe haven't seen Ahsoka before about what her relationship to Vader is. But then we had this other thing where we all liked Maul... Maul could be a fantastic foil for Ezra, a counterpointed dark-side mentor. He's not necessarily the dark-side Emperor Sith."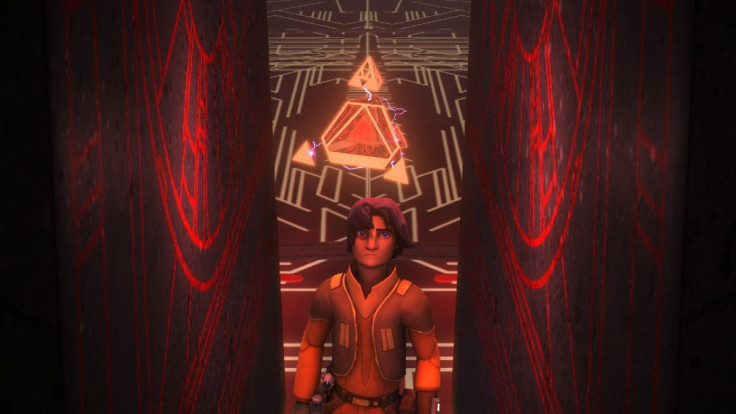 In season 2 there were hints of Ezra flirting with the dark side, which will be addressed in the finale. Filoni shared, "This whole season has been about getting Ezra to kind of explore the dark side of the Force and be aware of its existence on a powerful level that maybe he didn't understand before. It's really kind of an Empire Strikes Back movement for the series, where we bring the dark side out more to our heroes and challenge them with it. It's going to get pretty crazy before the end here."
It remains to be see whether Vader would defeat, or whether there would be a Vader-Maul confrontation. To know more, watch the finale episode of Star Wars Rebels that airs this Wednesday on DisneyXD.