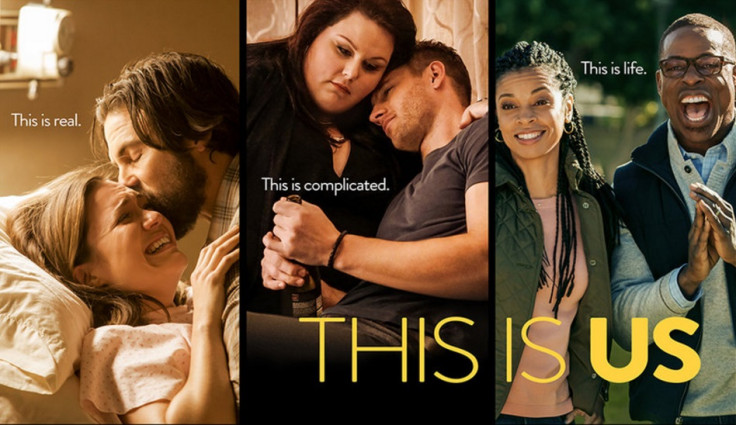 Get ready to experience an emotional journey with an ensemble cast that includes Mandy Moore and Sterling K. Brown (of The People v. O.J. Simpson: American Crime Story fame) in NBC's new series This Is Us. The brand new show boasts of an emotional story line, an impressive cast and a dramatic twist of event that will connect the characters, who are all born on the same day.
Click here to watch This Is Us season premiere live online on the official website of NBC on 20 September. The pilot episode will air on Tuesday on NBC at 10pm EST.
This Is Us follows three parallel storylines, all of whom seemingly have no connection other than the fact that most of the characters are turning 36 at the same time. The very first scene will introduce the viewers to a very naked and romantic Jack played by Milo Ventimiglia (Gilmore Girls) and his pregnant wife starring Moore.
As Jack prepares to celebrate his birthday (in a birthday suit), his wife Rebecca announces that it's time she delivers her triplets.
At the same time, there are the twins – Kate and Kevin, who are also about to ring in their 36th birthday. But from the looks of the trailer it seems that neither of them is happy. While Kate struggles with her weight issues, her TV star brother is suffering his own catastrophe and is on the verge of losing his job.
And finally there is Randall played by the Emmy-winning Brown, who is on the hunt to find his biological father, who had abandoned him on a doorstep 36 years ago. Despite the pain and suffering, Randall ends up inviting his father to meet his grandchildren.
"Everything I want to say or do with this man I do the opposite," Randall tells his wife dropping the first hint that the world of all the three storylines are connected. "It's like a bad sitcom. Like The Manny" (The same show that stars the distraught brother Kevin).
"18 million people in the world share the same birthday," notes the trailer video, "But that's not the only thing they have in common". So what connects the life of these individuals dealing with their own life and problems?
Perhaps it is the loss of a baby or a job, or maybe on the bright side a new addition to the family. In the words of the show's star Ventimiglia, This Is Us is about the "ups and downs of life: a whole lot of laughter, a whole lot of tears, a whole lot of life,"
Catch the premiere episode of the emotional NBC drama on Tuesday at 10pm EST.