A police warning that watching or sharing the graphic video of journalist James Foley being beheaded by Isis (known as Islamic State) could be a "terrorist offence" has been slammed by a lawyer, who says the statement was "false and alarmist".
Lawyer and writer David Allen Green challenged the Met's senior anti-terrorist press officer on what law makes viewing a terror video illegal.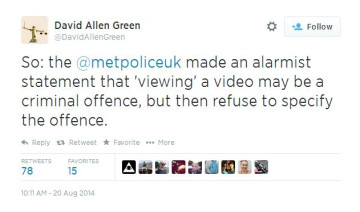 He asked the Met which specific law made watching the video a crime, suggesting that no such criminal law exists in Britain.
Green posted on Twitter: "Some may say viewing video should be an offence; but it isn't, and @metpoliceuk should not publish false alarmist statements about the law".
He added that he had not seen the video in question "and would prefer if no one saw it" but that it is "not an offence to have viewed it".
The police spokesman refused to specify which criminal offence can apply to viewing the video published on YouTube by IS on Tuesday, instead replying: "Our statement stands."
When pushed, a more senior press officer quoted sections 1 and 2 of the Terrorism Act 2006 to justify the police warning. But Green refuted the claim, stating that the sections specified "don't cover viewing".
Sections 1 and 2 of the Terrorism Act 2006 refer to the "encouragement of terrorism" and "dissemination of terrorist publications" but do not specifically refer to people watching videos created by terrorist groups. The Act can be read here.
Blogging for the Financial Times on Thursday, Green writes that the results of his conversation with the Met press bureau are "worrying". He says: "People need reliable and accurate public information, and they have the right to expect it from the well-funded PR departments of UK police forces.
"If a police force tells people something is against the law then it should be able to instantly say on demand what that law is. The law should not be made up by press officers as they go along, especially in respect of matters such as terrorism where confidence in law enforcement agencies is crucial.
"It cannot be the role of any police force to publish alarmist and false statements about the criminal law."