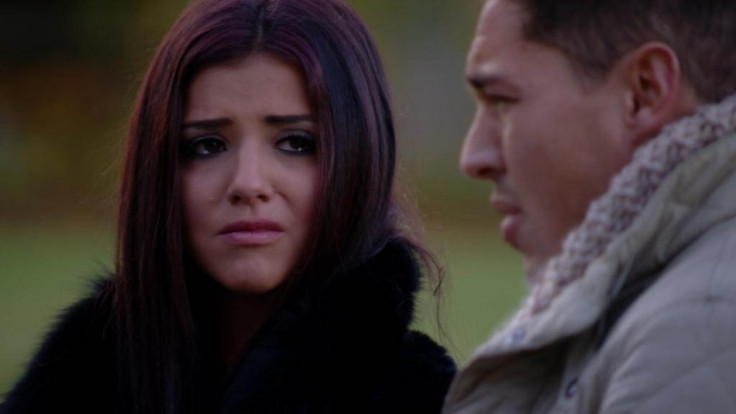 TOWIES's Lucy Mecklenburgh has finally come clean with her boyfriend about her night with Mark Wright but claims she woke up with her clothes on.
In emotional scenes aired on last night's episode of TOWIE , Lucy, 20, confessed to her boyfriend Mario Falcone, 23, that she lied about spending the night with Wright, much to the devastation of a shocked Falcone who promptly dumped her.
The revelation follows Lucy's denial over claims by Wright last month that they slept together when Mario flew to Ibiza for an overnight visit.
Falcone, who chose to believe Lucy, was left looking like a fool when she admitted that Wright's claims were right all along.
Lucy told an angry Falcone that that she had been out partying with a group of girlfriends and after getting really drunk ended up back in Wright's apartment.
She said: 'I got more and more drunk... Mark and Jess had a joint party...'
After admitting that she woke up at Wright's apartment, Lucy tried unsuccessfully to save her crumbling relationship by insisted that she woke up with her clothes on and saying:
'I woke up dressed and I honestly still to this day don't know what happened. It made me realise how much I love you. I've never had a boyfriend as lovely as you.'
However, a furious Mario refused to hear her out and called time on their six month romance: 'Needless to say it's over... You've lied for the last two months. You've lied to my sisters, my family.
'Your morals are way off. That says a lot of about you as a person.'
This is not the first time Wright has got in-between the couple who started dating in April this year.
Their relationship hit the rocks after just a few weeks when Lucy and Wright kissed on holiday in Marbella. Falcone, however, forgave Lucy's slip up as they were not that serious.
Did Mario make the right decision breaking up with Lucy after her shock confession? Let us know what you think...