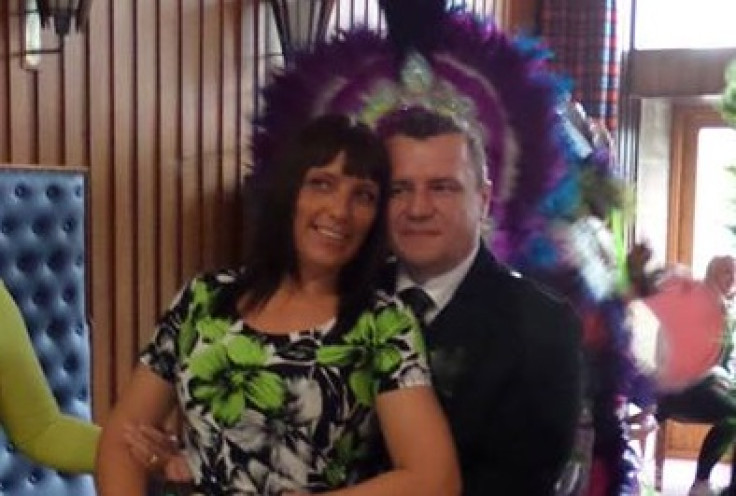 A bride-to-be has been left distraught after her venue slammed her on social media for 'spouting' about them on a wedding site after she asked other brides a question about pricing.
Henia Roy, 51, from Glenrothes, Scotland, had posted on the Facebook page Blushing Brides Scotland asking whether other couples were paying full price for children and how early in advance they had to settle up.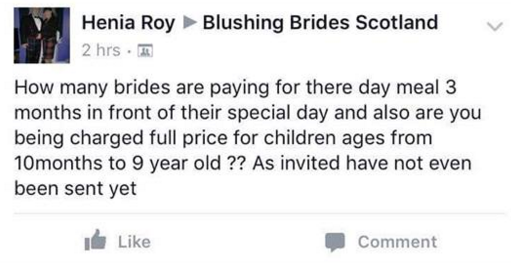 But a member of staff at her intended venue, Balgonie Castle, saw her post and told Miss Roy she was contacting a solicitor and was "sick to death of people getting on here and spouting about our venue when it is in the term and conditions".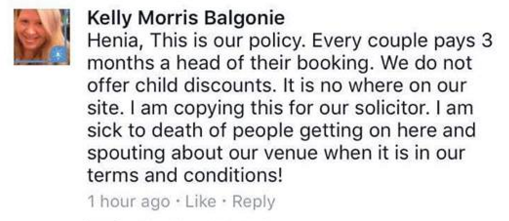 Roy, who was planning to be married on 27 August, told IBTimes UK: "I don't think the wedding is going ahead there now, I don't know, it's been a nightmare. I haven't slept at all, I've been in tears, I just don't know what's going on. It's just over 22 weeks until the wedding, I was counting down to it. I just feel sorry for the owner, he's a nice man."
Roy had refused to name the venue on the Facebook site, and said she was simply asking advice from other brides about how much she should be paying for children's meals.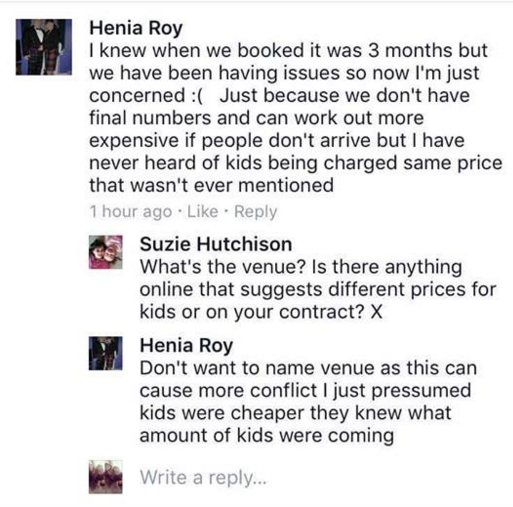 But Kelly Morris Balgonie, believed to be an owner of the business, named the venue and shared details of how much the venue was charging Roy and her fiancé for the wedding, adding that they had specified details of the pricing beforehand.
On her personal Facebook page, Kelly Morris Balgonie wrote: "I have finally stood up for my business and boy do I feel better. We have a bride whom I have been dealing with these past four weeks who does not want to pay for her contracted wedding agreement.
"She went onto one of the Wedding Blogs I look at every day and was questioning how unfair our policies are, ie no children's prices and must pay for their event 90 days before the event. I got jumped on and attacked. Called lots of names but guess what, they can all get f'ckd [sic]".
And following the venue's response on Facebook, the exchange has been shared by thousands of people – with many sharing the hashtag #boycottbalgonie and sympathising with Roy.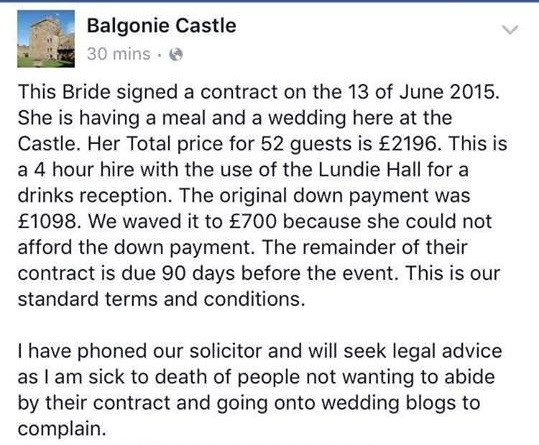 A statement on Balgonie Castle's website said: "We are sorry to learn of a recent campaign on social media targeting our business and disappointed that this has happened. We understand that planning a wedding is a stress full time and full of hopes and dreams.We invest time with each client and go through the information pack which is given and discussed with the couple.
"The terms and conditions are set out clearly along with our tariffs in line with the wedding industry. We ask for payment in the form of a deposit to secure the venue and reserve the slot for that couple. We ask for the balance to paid in full before the big day to ensure there is no complications and to ensure that there is no surprises after the big day.
"The meal tariff does not include child prices as the tariff is highly competitive compared to other venues."
The venue also left Facebook, stating in a final post that it was sick of 'bridezillas' and was reconsidering its stance on weddings.
It is currently not taking any further wedding meal bookings, although it will honour existing ones.