Gunfire has erupted at the upmarket Westgate mall in Nairobi, where 20 Somali Islamic extremists are still holding hostages nearly 24 hours after they attacked using grenades and assault rifles.
Kenyan authorities said the militants had taken an unknown number of hostages in the shopping centre, which is located in the prestigious Westlands area of Nairobi, after killing at least 59 people and injuring at least 175 as part of a coordinated attack on the four-storey mall, which was packed with Saturday shoppers.
Somalia's al-Qaida-linked rebel group, al-Shabaab, claimed responsibility for the attack, in which they targeted non-Muslims.
Kenya's interior cabinet secretary Joseph Lenku said about 1,000 people have been rescued so far from the mall.
The gunmen remain inside with their hostages.
The militants are thought to be accessing the internet inside the shopping centre, tracking all the latest developments in the outside world, including security measures.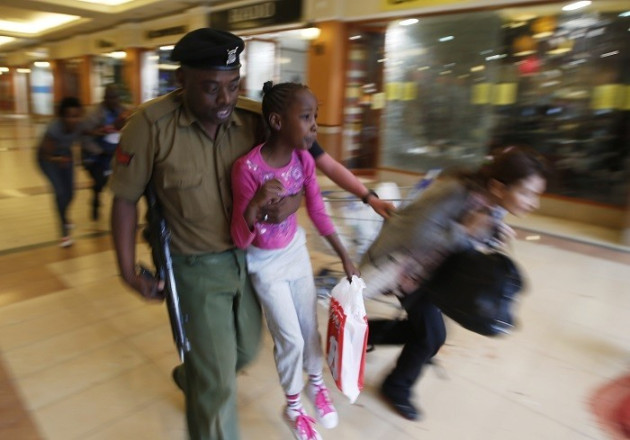 They have forced the Kenya National Disaster Operation Centre to shut down its social media updates on the rescue operation.
Twitter also blocked al-Shabaab's account from posting updates. After the Somali militant outfit claimed responsibility for the attack, the @HSM_Press account was taken offline.
Kenyans and foreigners were among those confirmed dead, including French and Canadians. Kenya's presidential office said that one of the attackers was arrested on Saturday but died from bullet wounds.
British nationals were last night "undoubtedly" caught up in the terrorist atrocity, said Foreign Secretary William Hague.
"Violent extremists continue to occupy Westgate mall. Security services are there in full force," said the United States embassy in an emergency text message issued Sunday morning.
Trucks brought in a fresh contingent of soldiers from the Kenya Defence Forces early on Sunday to back the combined military and police force that surrounded the upscale mall overnight.
Daylight brought some good news, as Kenyan media reported that several people in hiding in the mall had escaped to safety, suggesting that not everyone who is still inside is being held by al-Shabaab.
Cecile Ndwiga said she had been hiding under a car in the basement parking garage.
"I called my husband to ask the soldiers to come and rescue me. Because I couldn't just walk out anyhow. The shootout was all over here - left, right- just gun shots," she said.
Nairobi resident Paolo Abenavoli said he is holed up in his apartment only 100 metres from the mall with a direct view of the entrance. He said he could see a dozen or more security forces inside a first-floor restaurant.
"The battle is on now," Abenavoli told The Associated Press by telephone as fresh gunfire broke out Sunday.
Security forces have pushed curious crowds far back from the mall. Hundreds of residents gathered on a high ridge above the mall to watch for any activity.