Eight prototypes for US President Donald Trump's proposed border wall between Mexico and the United States have been built in in San Diego, California. The prototypes form a tightly packed row of imposing concrete and metal panels, including one with sharp metal spikes on top.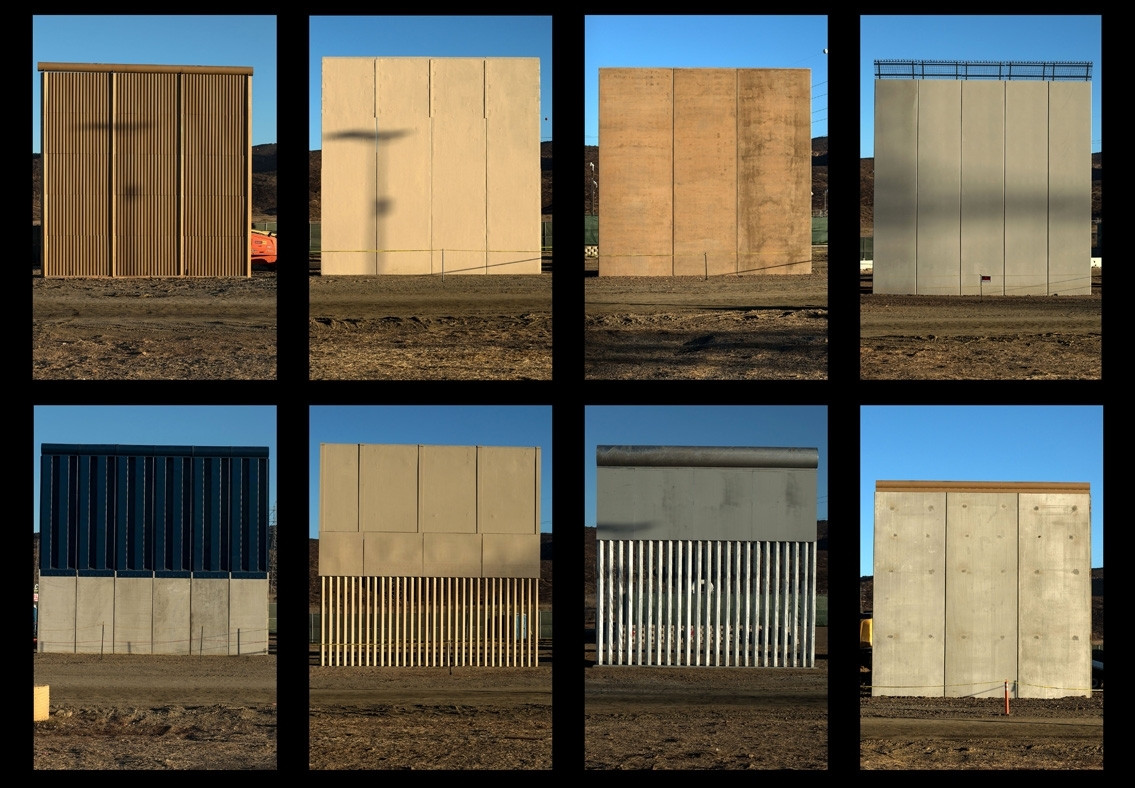 The models, which cost the government up to $500,000 each, stand between 18 and 30 feet (5.5 and 9.1 metres) high. According to the brief, they must able to withstand at least an hour of punishment from a sledgehammer, pickaxe, torch, chisel or battery-operated tools. They should also resist the use of climbing aids such as grappling hooks, and they must be "aesthetically pleasing" when viewed from the US side (there are no aesthetic requirements for the Mexican side).
Trump had said he wants the wall to be "see-through" so that Border Patrol and other authorities could see anyone trying cross the border illegally.
IBTimes UK presents photos of the eight prototypes – in ascending order of cost – along with descriptions of their main features:
---
Cadell Construction Co, Montgomery, Alabama. ($320,000). One of two models by this contractor, this one is tan in colour with metal poles on the bottom, a metal plate in the middle, and a concrete block on top. The general construction company founded in 1983 says its projects include US embassies in Beijing and Kabul, Afghanistan, terminals at Houston's George Bush International Airport and renovations to the Denver Mint.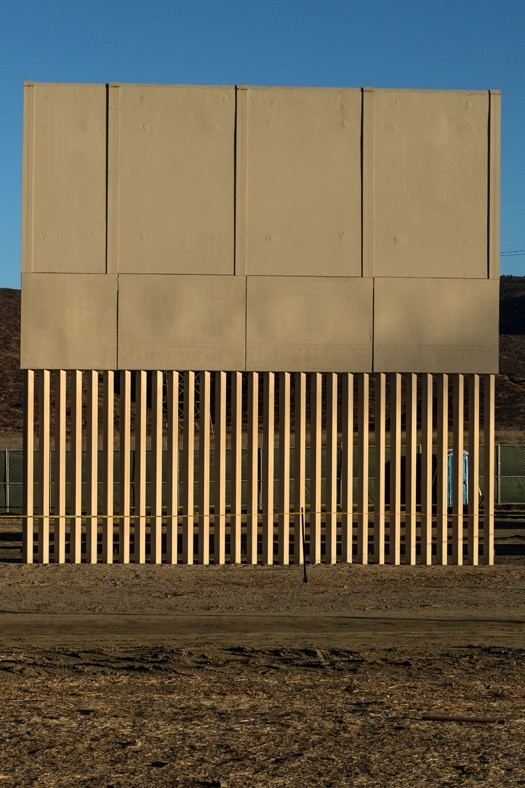 The second ($344,000) prototype by Cadell Construction Co is a tan concrete wall that is thick at the bottom, narrowing considerably towards the pointed top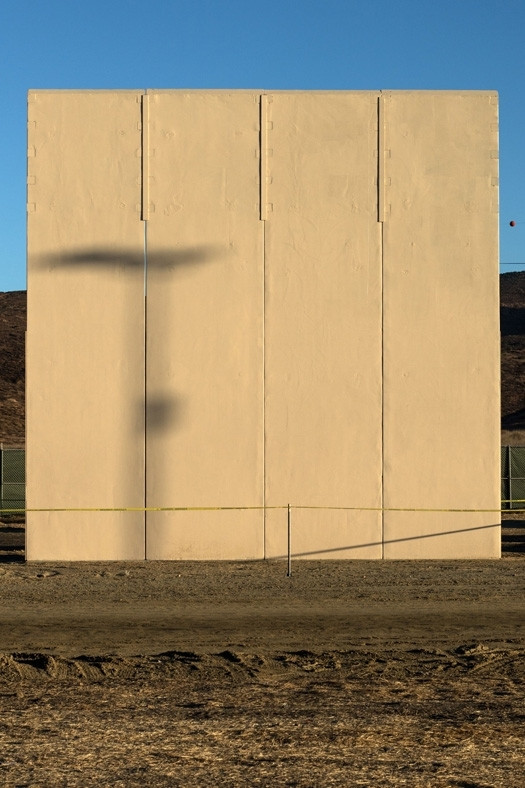 Fisher Sand & Gravel Co, Tempe, Arizona. ($365,000 contract). This is the only prototype to be built entirely on site — as opposed to being hauled in. Its tan surface gradually narrows toward the top, like a long triangle. Part of conglomerate Fisher Industries, the company produces sand, gravel and other products for roads, dams and large public works projects. The company is active in 12 western states.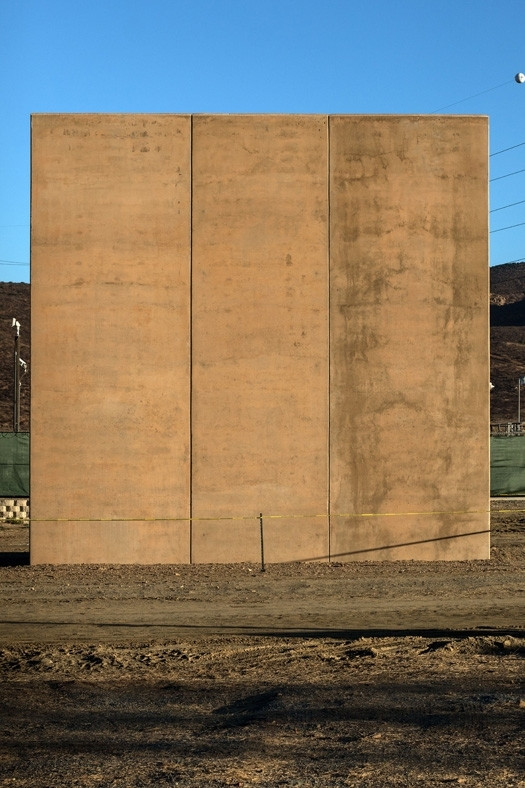 ELTA North America Inc, Annapolis Junction, Maryland. ($406,319 contract). On the US side, this solid metal wall features six light blue squares with white trim on the bottom third, topped by dark blue beams and metal plates. The Mexican side, seen here, is undecorated. ELTA is a large Israeli defence contractor owned by state-run Israel Aerospace Industries. The company, which makes radar and other gear, opened its new US headquarters in Maryland in May.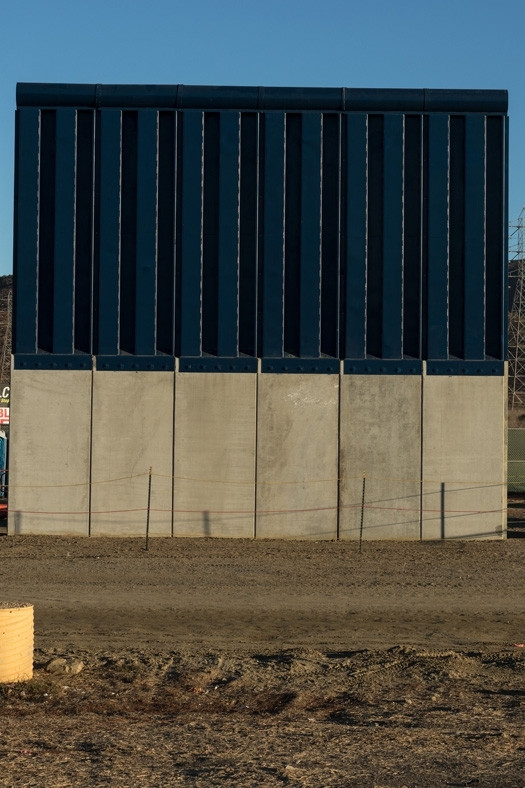 WG Yates & Sons Construction Co, Philadelphia, Mississippi. ($453,548). One of two walls by this contractor, its concrete panel has a plain face topped by round beams. The 53-year-old company has worked in a wide range of projects, including a Toyota plant in Blue Springs, Mississippi, a county jail in Olmito, Texas, a marine terminal in Jacksonville, Florida, and a power plant near Panama City, Florida.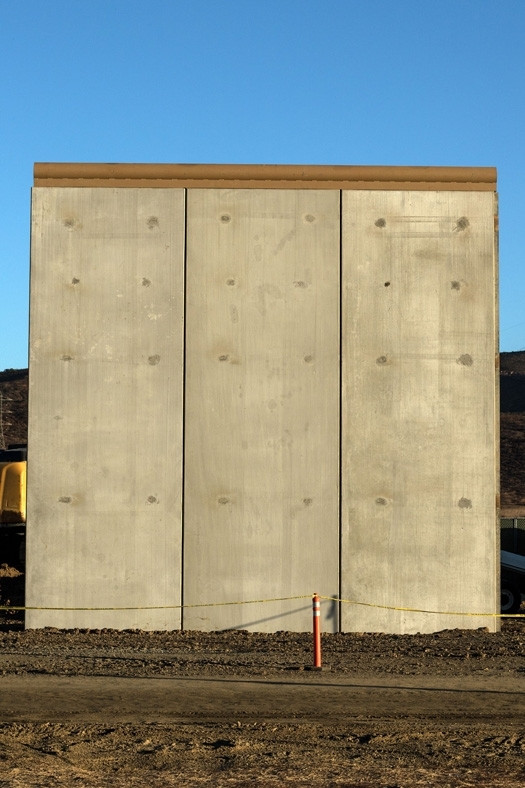 The second ($458,103) design by WG Yates & Sons Construction Co features a corrugated metal surface topped by round beams.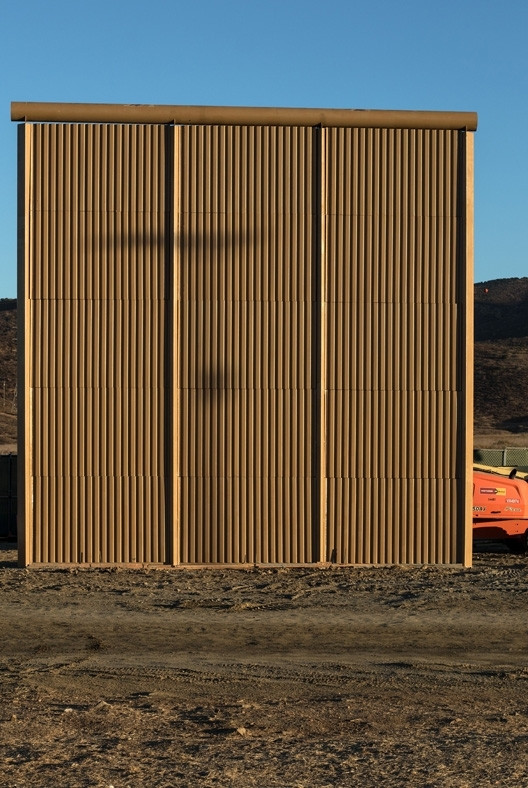 Texas Sterling Construction Co, Houston. ($470,000 contract). The surface of the US side is stamped with patterns of different-sized bricks, like a driveway. The Mexican side is plain grey. There is a steel plate on top with prongs that feature three metal spikes, resembling an agave plant. Parent company Sterling Construction Co., founded in 1991, specialises in water and transportation projects, including highways, bridges, ports, light rail, wastewater and storm drainage systems. It is active in Utah, Texas, Nevada, Colorado, Arizona, California and Hawaii.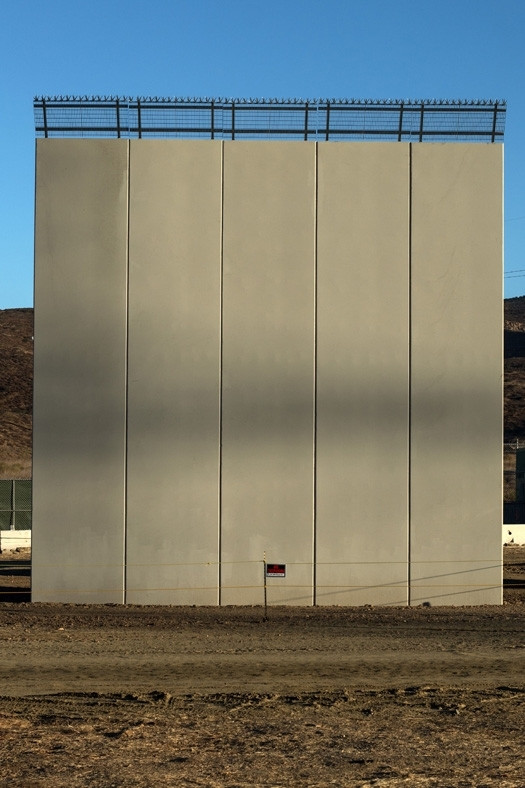 KWR Construction Inc, Sierra Vista, Arizona. ($486,411 contract). Its grey metal columns are topped with a large metal plate. The small, Hispanic-owned company counts the Homeland Security, Defence and Interior departments among its largest customers.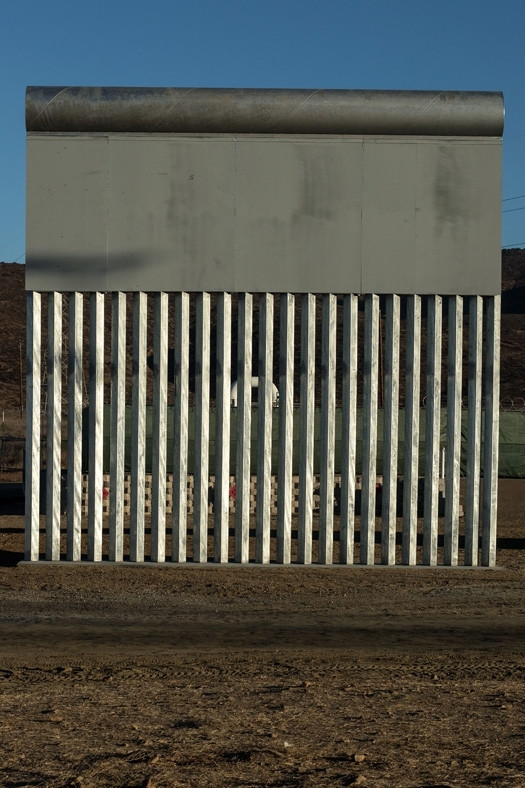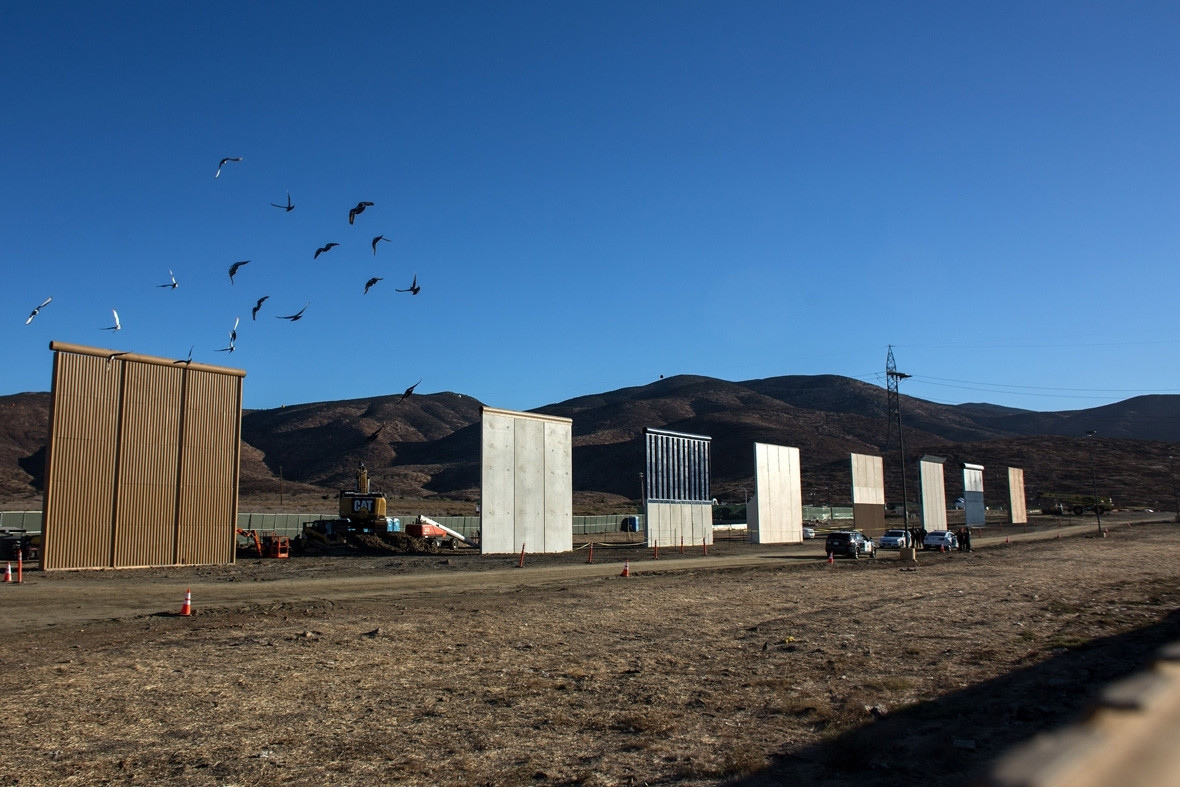 Whatever the wall looks like – if it is ever built – it won't stop people tunnelling under it. Dozens of tunnels have been found along the US-Mexico border in recent years. Subterranean tunnels found in the area are most commonly used for drug smuggling, according to the Customs and Border Patrol.
In 2016, federal agents said they seized a ton of cocaine and seven tons of marijuana smuggled through a tunnel in the same area that stretched a half mile beneath the border, which then was the longest one yet unearthed in California, Reuters previously reported.
One of US President Donald Trump's key campaign promises in 2016 was to construct a wall along the 2,000-mile (3,200km) US border with Mexico to fight illegal immigration. The border, which stretches across four US states, already has 654 miles (1,052km) of single-layer fence on the 1,954-mile (3,143km) border, plus 51 miles (82km) of double- and triple-layer fence.
Trump has asked Congress for $1.6 billion (£1.2bn) to replace 14 miles of wall (22.4km) in San Diego and to build 60 miles (96km) of wall in Texas' Rio Grande Valley, the busiest corridor for illegal crossings. Trump had insisted Mexico would pay for building the wall, which experts said could cost about $22 billion (£16.7bn) and take more than three years to complete.
With Mexico refusing to pay, Trump has said since taking office in January that the wall will initially need US funding but that he will find a way to make Mexico ultimately pay for it.