Kanye West's loyalty to Jay Z's Tidal was recently called into question and now reports have emerged that the All Day rapper is still in "negotiations" with Apple to release his anticipated new album exclusively on their new streaming service.
The technology giant is preparing to announce Apple Music on 8 June at the Worldwide Developers Conference (WWDC) with a number of exclusive or "windowed" releases from well-known artists available to subscribers.
BuzzFeed News reports that 38-year-old West is one of the artists with whom Apple have reportedly been in talks surrounding the distribution of his eighth studio album, currently titled Swish.
Music executive Jimmy Iovine, the former co-founder of Dr Dre's Beats Music which is now owned by Apple, is said to be spearheading talks with the Grammy-winning musician.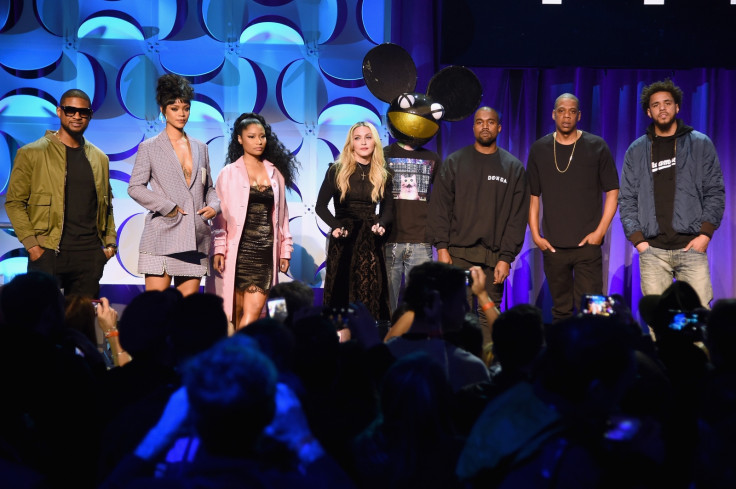 While an announcement about a possible partnership will not be made at the WWDC, it is claimed West and Iovine are in "continued negotiations".
West signed on as a co-owner of Tidal in March alongside a string of major artists including Beyonce, Madonna, Nicki Minaj, Calvin Harris and Jack White.
In April, the chart-topper fuelled speculation that he had turned his back on the service after he reportedly deleted tweets promoting the Spotify-rival. The rapper later posted a new tweet in support of the streaming website, which read:
Since its launch three months ago, Tidal has been subjected to a torrent of criticism with Jay Z, 44, forced to defend his new business move.
During a recent concert where he performed his b-side tracks exclusively for Tidal subscribers, the hip-hop mogul told the audience: "I don't need no middle man to talk to my n****s... I don't take no cheques. I take my respect. Pharrell even told me go with the safest bet. Jimmy Iovine offered a safety net. Google dangled around a crazy cheque.
"I feel like YouTube is the biggest culprit. Them n****s pay you a tenth of what you supposed to get. You know n****s die for equal pay, right? You know when I work I ain't your slave, right?"
Among the celebrities to criticise Tidal are rapper 50 Cent and former Oasis frontman Noel Gallagher.