It's always a special time when Nintendo gears up to release its latest gaming hardware. For many years, the pioneering company has existed separately to fellow console-manufactures Sony and Microsoft, whose more conventional PS4 and Xbox One consoles dominate the market.
Nintendo always looks to offer something different. With the NES it brought gaming to people's homes, with the GameBoy it brought gaming to people's pockets, with the DS it introduced second-screen functionality, with the 3DS it toyed with an extra dimension and with the Wii it used motion controls to bring gaming to a larger audience.
Even with its less successful ventures (N64, GameCube and Wii U) stellar software gave the machines great value even as sales faltered. Now, we have Nintendo Switch.
What is Nintendo Switch?
Nintendo Switch is a hybrid home and handheld console. The core aspect of Switch is the handheld device, a 6.2-inch multi-touch-enabled screen with detachable 'Joy-Con' controllers on either side. While attached, the device is a typical handheld, but one more capable than any on the market. The handheld screen is capable of 720p visuals on its own, but when docked games will output at 1080p to a TV.
When detached, the screen portion can be positioned with a stand to allow multiplayer with the two modular Joy-Con controllers functioning separately. Up to eight individual Switchs can also connect for local multiplayer.
The Joy-Con controllers can also be attached either side of the Joy-Con Grip to create a single, more conventional controller.
This larger controller is used when the handheld portion of the Switch is slotted into the Switch Dock, which is attached to and enables games to be played on television sets. This dock also upgrades performance for gaming at home. The switch between using the device as a home console to using it as a handheld (and vice versa) is near-instantaneous.
The Joy-Con controllers are motion-enabled like the Wii's controllers and feature an IR motion camera. Further details regarding button layout are below.
Battery life for the Switch when used as a handheld has been pitched as somewhere between two and a half and six and a half hours. The Joy-Cons have a battery life of around 20 hours. A share button will allow users to share screenshots and eventually, at a later date, video.
The device comes with a 32GB SD card as standard but will support standard SDXC cards if you need more storage.
What is the Nintendo Switch's release date, price and launch line-up?
Release date: 3 March, 2017
Price: £279.99 / $299.99 (North America)
Launch line-up (confirmed so far):
The Legend of Zelda: Breath of the Wild
Just Dance 2017
Super Bomberman R
Skylanders Imaginators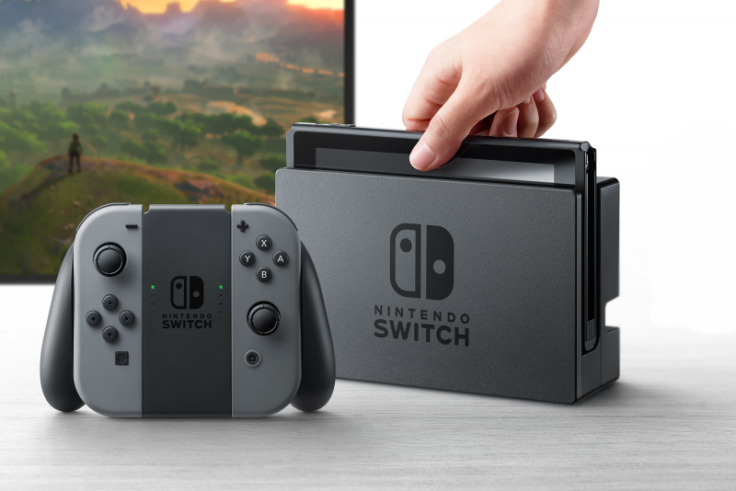 What about Nintendo's new online service?
The new Nintendo online service will be premium, but not until later this year. When Switch launches in March it will be free for everyone. The service will encompass online play, offer discounts and include a free NES or SNES game to play per month. The SNES titles will also include online multiplayer support.
There will also be an accompanying app released this summer. The Nintendo website says: "Our new dedicated smart device app will connect to Nintendo Switch and let you invite friends to play online, set play appointments, and chat with friends during online matches in compatible games ─ all from your smart device.
What's the thinking behind Nintendo Switch?
The handheld market has shrunk significantly since the mobile gaming boom. The 3DS was successful (though not as successful as its predecessor) but it is market that's shrinking. By bringing home and handheld together, Nintendo will be able to offer quality on both fronts and, in theory, bring the two distinct halves of its audience together.
If you don't want to use the Switch as a handheld, you don't have to. There's still a quality home console experience to be had, even if it doesn't compete in terms of performance with the PS4 or Xbox One. For the audience Nintendo is targeting, it won't be a deal breaker.
With Switch, Nintendo is also able to unify its development efforts. Over the past few years the company's home console and handheld development teams have been working more closely. We saw Super Smash Bros release on both devices simultaneously. Versions of exclusive titles like Hyrule Warriors, Super Mario Maker and Donkey Kong Country Returns have appeared on both Wii and Wii U, and 3DS.
The design ethos of Mario platformers has also transferred between home and handheld, in the New Super Mario Bros series and Super Mario 3D Land and Super Mario 3D World.
Nintendo working singularly (give or take a few impending 3DS games) on one device should mean an incredibly rich software line-up.
For all the latest video game news follow us on Twitter @IBTGamesUK