Once again, Apple has hit the headlines – but this time it's not all good news.
Latest figures showed that Apple's revenues were up 33% in the third quarter pushing an incredible $49.6bn, net profit hit $10.7bn and iPhone sales came in at 47.5 million. Despite these seemingly impressive figures, they fell short of analysts' expectations and the fall out has been quite spectacular.
Apple CEO Tim Cook's view that this has been "an amazing quarter" has been widely ignored by analysts and investors who focused on weaker than expected forecasts for revenue for the fourth quarter. Revenue predictions are now at $49/51bn, just shy of the analysts' expectations of $51.1bn.
The effects of this were staggering; shares fell nearly 7% in after hours trading on Tuesday night and more than $60bn was wiped off in value as fear of the unknown spread and investors began to worry about the potential existence of "peaked popularity".
To the layman, these figures aren't material; a 3% decrease in revenue doesn't usually scream "catastrophe!", and if Apple wasn't the global sensation that it is, there probably wouldn't be so many apprehensions forming. The fact is, this all comes down to management of expectations and hype. As an investor, when you're used to figures hitting above and beyond projections and seeing a rise in revenue year after year, a slight dip comes as a shock.
The market is so used to Apple outperforming that it's set exceptionally high standards and now financials have fallen short of these standards, the perception is that the shine has worn off – that it's all downhill from here.
So, are investors expecting too much? Has popularity really peaked?
Apple's figures tell me there is still some serious demand out there for its products and it's likely this blip is a result of over-projection. However, I understand why people are panicking. The stock market is so unpredictable that you have to be a real risk-taker to play the game and those who thought they were surely safe investing in such a reputable business like Apple must be anticipating the worst.
We know that retail is stagnating and new product launches aren't creating as much excitement. For example, the upgrade cycle issue we're currently seeing with iPhones points to the idea that more and more people are actively choosing not to upgrade and are instead sticking with their current model, or just waiting until an even newer model is available. Could this issue evolve into something bigger?
Every product takes a while to become established, Apple just has the advantage of its brand. However, I think many investors are worried that the launch of new products, and specifically the Apple watch, will not perform as well as predicted. Despite Apple's claims that the watch sales had exceeded expectation, the lack of proof surrounding these illusive quarter sales is discomforting.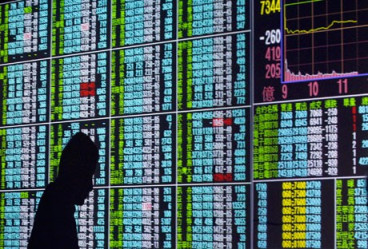 Lots of people have asked what I would do if I had shares in Apple, given the news, and the answer is: I'm not sure. The reason for this is there is no right answer because both sides have the potential to be right. On the one hand, you could sell shares now and take a profit before they potentially slide. On the other hand, you could ignore this blip, assume the market has overreacted and buy shares today for, in theory, 10% cheaper.
It could go either way, that's how unpredictable the stock market it. However, the fact still remains that as a business, Apple sits on over $100bn in cash – its makes 39% on every product and continues to be one of the greatest businesses of all time.
It's a risky decision, I have no idea what's in store for Apple, but I'll definitely be keeping a close eye on them in the next few days.
---
James Caan CBE is founder and CEO of Hamilton Bradshaw, a venture capital firm based in Mayfair, and a former panellist on BBC series Dragons' Den. He supports many charities and established The James Caan Foundation to support education and entrepreneurship in the UK.
You can follow James Caan on Twitter @jamescaan.