The streets of The Gambia were dotted with thousands of jubilant people when President-elect Adama Barrow was sworn into office at the Gambian embassy in Senegal's capital Dakar on 19 January. The inauguration could not be held in Gambia itself after veteran leader Yahya Jammeh refused to relinquish power, following his defeat in December's presidential elections.
When Jammeh eventually went into exile on Saturday (21 January), following a regional military intervention and diplomatic talks, Gambians crowded the streets once again – this time in Dakar –and held night-long parties to celebrate the end of a 22-year-long government, anticipating their return home after years of self-imposed exile.
Senegal has been the primary hosting country for thousands of Gambians who fled their homeland to avoid persecution, abduction, arbitrary detentions and targeted killings. Now, they are preparing to go back and, as many of them have told IBTimes UK, "build the new Gambia".
Thousands of Gambian refugees who have crossed into Senegal — as the political standoff deepened— have begun slowly making their way back to Gambia's capital Banjul by ferry or by bus.
However, some of them who are still in Dakar said they were worried to go back home as their leader was still in Senegal.
When will Barrow go back to Gambia?
It is not yet clear when Barrow will return to Banjul. The leader has now called on West African troops to stay in Gambia until security is fully restored.
Barrow's top adviser, Mai Ahmad Fatty, told journalists in Dakar on 22 January: "Barrow is in Senegal, but the other members of the opposition coalition are on the ground. They are all in the Gambia and people need to have faith in their leaders.
"President Barrow is a different case, he is no longer an ordinary Gambian, he is the president and his security considerations are different," he continued.
"He [Barrow]made his desire clear, to go home. His excellency will return home as soon as possible,"
Sources close to the president, who remains in Senegal, told IBTimes UK that Barrow will make an official announcement on his departure date next week. Current thinking indicates he is unlikely to leave Dakar before Wednesday (25 January).
Barrow, a former businessman who led a broad opposition coalition to defeat Jammeh, has been busy appointing members of his new government, working with Senegalese authorities to repatriate Gambian refugees – preparing to the take the helm of a nation that activists have described as being "held ransom by Jammeh for 22 years".
Barrow, who could not be reached for comment because of his busy schedule, is being urged by human rights groups to keep the promises made during the electoral campaign.
"After 22 years of fear, Gambians now have a unique opportunity to become a model for human rights in West Africa, in which no one need to be afraid to stand up or speak out. We hope the international community will support the new government and the Gambian people in this journey," Amnesty International said in a statement in expectation of Barrow's return.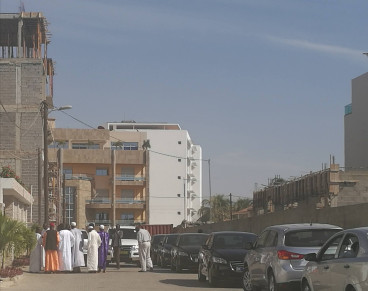 Gambians at home and abroad are eager to see the birth of a new Gambia free from repression.
However, they are aware that Jammeh's departure does not automatically mean peace is restored in the country.
Issues such as accountability, ethnic tensions and electoral and constitutional reforms must be addressed.
"Young Gambians voted for Barrow because they were looking for a change and they think he will bring changes," journalist and activist Sainey MK Marenah, who has been in exile in Dakar since 2014, told IBTimes UK.
"I am hopeful that Adama will be able to bring together the divided Gambian populations under one roof, reconcile them and bring about reforms. Nothing is working in that country, Jammeh has destroyed it. The economy must be fixed and there must a be a total separation of powers, unlike Jammeh, who had total control over the judiciary."
Isamil Kenmei, a 47-year-old Gambian who fled with his family earlier in January, also believes the country is on the right path towards democracy. However, the journey, he says, will be a long one.
"If the situation mormalises in Gambia, we will go back," he said. "The change we were praying for is here, but it is too early to say what we think about Barrow. He is here to tell us who he is. We have seen him as a man, as a presidential candidate, as a president-elect. He is to prove to us what he really is and prove that he can fulfil his promises."
Subscribe on iTunes to In the Field, IBTimes UK's weekly podcast on world affairs.