It is a question many people ask before deciding to buy a new mobile phone, but which UK mobile phone network is the best and how can you measure it - speed, reliability, customer service?
RootMetrics, an independent mobile analytics firm, has attempted to answer this question by launching what it calls "the most comprehensive study into UK mobile performance ever undertaken."
The results of the research show that the major UK networks provide hugely varying levels of service with EE providing the best level of overall service while Vodafone is the worst performing network.
Overall performance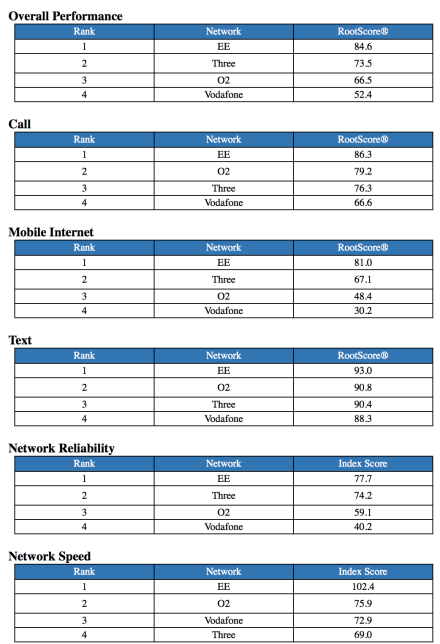 The RootScore Report scores networks on overall performance as well as breaking down results in categories such as call, mobile internet, text, network reliability and network speed.
In each of these categories EE places first, which is unsurprising considering it is the UK's biggest network while in all but the Network Speed test (where Three finished bottom) Vodafone comes out worst of all.
Unsurprisingly Vodafone has dismissed the report saying it was not taking "the results of this report seriously and neither should our customers".
The network claims that the tests were carried out "in an inconsistent manner."
Equally unsurprisingly, EE was quick to boast about the report's outcome with Olaf Swantee, CEO at EE, saying:
"Today's results show that the EE network gives customers everywhere in the UK the best mobile experience."
Size and scale
During its UK-wide testing, RootMetrics collected more than 840,000 samples, which is approximately one sample for every 100 mobile phone contracts in the UK.
The company drove more than 23,000 miles during the research and used off-the-shelf mobile phones to test outdoors, during driving, and at more than 1,000 indoor locations.
RootMetrics CEO and President Bill Moore said: "No other study of this size and scale for mobile performance has ever been carried out before in the UK, and it has, for the first time, shown consumers the true services they are receiving from their network provider."
The company failed to report average speeds for the individual networks saying the results varied so much from place to place it would have been impossible give an accurate overall figure.
And while it also fails to give details on network coverage, you can see street-level coverage for individual networks on RootMetric's online map.